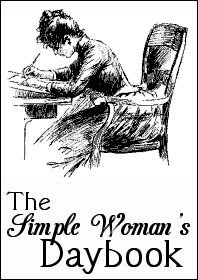 FOR TODAY, APRIL 24, 2012
Outside my window...
...watery sunlight filtering through. I can see birds fluttering at the feeders; the flick of a red tail signifies Mr. Cardinal has arrived.
I am thinking...
...
of the great time we had this weekend, and if we will ever get to go back to Unicoi again. End of an era with the group if we cannot.
I am thankful...
...
for my friends...for Juanita having found such a wonderful fella to start a new life with...for the new Baskin baby...for my little helper, Ziva :-) ...for Schuyler and Willow coming back with good checkup results (especially at Wil's age)...for the cool respite of the last few days (alas, to dissipate by Thursday)...
In the kitchen...
...
James prepared the doings and some goat meat is cooking in the crock pot. We figured this would be a way to better tenderize it. We found a great batch of "leavings," with a good deal of meat on the bones. My mission will be keeping it from melting away.
I am wearing...
...
my "Mutts" pajamas, blue socks and scuffs. It's a bit chilly this morning, but I'm enjoying it. Back to A/C on Thursday. Barf.
I am creating...
...
LOL...new weekend shoes. Need to string the colored laces on my old work shoes to use for weekends. One bad thing about new shoes: I was looking at mine yesterday, knowing I'm going to get them all wrinkly by walking in them.
I am going...
...
to have to get the car cleaned out on Friday! It's not only full of crumbs from vacation (yes, I haven't had it vacuumed all winter), but now it's full of dog hair from Willow stress-shedding on Friday and again on Monday. :-)
I am wondering...
...
should I go to MicroCenter on Friday, or wait for James? (Need a network cable a little longer than six feet.)
I am reading...
...
Inside Narnia
, which I bought over the weekend—an examination of
The Lion, the Witch and the Wardrobe
chapter-by-chapter (also references the other books), plus I just finished
Paper Bag Christmas
for a Rudolph Day review. Still reading the other books listed last week (except for
Maphead
, which I finished and is fab!).
I am hoping...
...
and wishing some miracle will cancel the reorganization they have planned at work...but I know it won't happen. ::grump:: I don't want to be reorganized. I'm happy where I am.
I am looking forward to...
...
Smyrna Spring Jonquil Festival is this weekend; we'll go straight from the Farmer's Market, so it's still cool. Nothing worse than wandering around in the blasted sun in 80°F weather. And the Brittrack Meet'n'Greet.
I am learning
...
unfortunately I'm never going to learn what I need to in one department. It's very lonesome.
Around the house...
...
quiet. The Hot Shot boiling water for my oatmeal and the hum of the computer is the only noise there is.
I am pondering...
...
having my sound, video, and network card put in my computer. James is a whiz at this, but it's always worrying. Computers are such fragile creatures!
A favorite quote for today...
"A cool breeze stirred my hair at that moment, as the night wind began to come down from the hills, but it felt like a breath from another world." ― Francis Marion Crawford
One of my favorite things...
...Leo Laporte, "the Tech Guy." I'll be listening to him in just a bit. I'm almost caught up with back shows.
A few plans for the rest of the week:
...
a network cable, a clean car, craft displays, and a gathering with friends.
A peek into my day...
How about a peek into two days ago? And a perfect "winter sky." (It never looks like this in summer, but is pale and yellowish at the horizon.)
If you'd like to participate, check out
The Simple Woman's Daybook
.
Labels: Simple Woman's Daybook