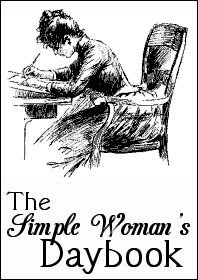 FOR TODAY, APRIL 19, 2012
Outside my window...
...grey and gloomy: we had rain yesterday, which we badly needed. Thankfully it didn't start raining harder until I got home from work. All that liquid stupidity falling from the sky makes traffic dreadful.
I am thinking...
...as easy as it can be to save money, it's equally easy to spend a lot of it. Yesterday was a good example: I had two broken engine mounts and had to have them fixed. Since timing belt change was coming up soon, I had that done, too, to save money later on.
I am thankful...
...that the repair was done, because they found out my water pump was starting to leak. The repair on that was tossed in, no charge.
In the kitchen...
...all quiet on the eastern front (the kitchen faces east). I've just warmed up my oatmeal, I have my yogurt and my milk—there's breakfast!
I am wearing...
...black tank top and shorts and my flowered scuffs. It's almost too chilly for it, but it will be warm again soon enough.
I am creating...
...stalled on another cross-stitch. The one I finished I mailed out to its recipient and she received it yesterday. She sent a pic to me of it pinned on her fridge. Ever since I have known her, Pat has liked koalas. When I saw the koala kit on one of the British cross-stitch magazines, I knew it was perfect for her. :-)
I am going...
...to clean out Schuyler's cage today, maybe during lunch. It really needs it. All the fruit I give her makes the bottom of the cage so sticky. Plus I need to clean up all the feathers she has moulted. It certainly is spring!
I am wondering...
...what James will bring home for supper! He said he didn't feel like cooking tonight!
I am reading...
...
Maphead
by Ken Jennings, which is tremendously fun and funny. I'm not quite the geography geek he was, but I have always loved maps. One of the things I thought about doing "when I grew up" was to be a cartographer. That would have been cool. Still working through
The Traitor's Gate, How the States Got Their Shapes Too
, and
December 1941
. They were just not what I wanted to read right now.
I am hoping...
...it stays cool a while longer.
I am looking forward to...
...the Smyrna Jonquil Festival. Hope One Screw Loose is there so we can get more of that balsamic jelly!
Around the house...
...quiet right now. The computer hums. The bird sulks because the television isn't on. The dog is asleep again.
I am pondering...
...the passing time. April is two-thirds gone already, and "out, damn summer!" will soon be here.
One of my favorite things...
...all things fanfic...as long as it is
good
fanfic. (Did you know that that
Fifty Shades of Grey
that everyone is talking about is a
Twilight
fanfic with the names filed off?) I found a dandy
Sherlock
story and Lord Peter Wimsey/Captain Jack Harkness tale
here
. Must read the others soon—they are already downloaded to my Nook.
A few plans for the rest of the week:
It's checkup time for the critters. Neither will be happy. Schuyler: "I don't want to be shot!" Willow: "And there are wolves there!" (Willow, trust me, those are dogs.)
A peek into my day...
I always wait to do this until later...but it all came back to me on Facebook when someone posted a picture of two lonesome drive-in movie speakers. You'd hang them in your window so you could hear the movie (no wireless or FM transmitters back then). It brought back warm Saturday nights at the Cranston Drive-In, the heavenly smell of popcorn coming from the concession stand, playing in the playground under the screen in the gathering dusk, watching the first movie, which was generally lighter or more geared to kids, then Mom and Dad would bed you down on the back seat and the second movie would lull you to sleep...I remember falling asleep to
Cheyenne Autumn
...unfortunately I didn't fall asleep during
Lonely Are the Brave
and then cried for a week because the horse died.
If you'd like to participate, check out
The Simple Woman's Daybook
.
>
Labels: Simple Woman's Daybook