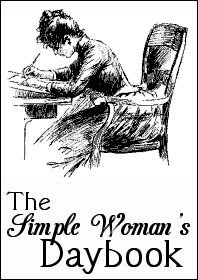 FOR TODAY, APRIL 10, 2012
Outside my window...
...first light. There is a wall of green leaves which fills almost all the background, with only tiny peeps through to the trailer park behind us. And birdsong from that wall.
I am thinking...
...how very fast the leaves have come in. Usually it is such a slow process, the buds turning to a frost of pale green, then watching the young leaves tremble in the morning chill...but these have almost turned from bud to leaf overnight.
I am thankful...
...for having had good parents.I was reading a couple of blogs last night where the authors were very unhappy about their pasts, although the reason for their anger about a few specific things eluded me
.
But I did not face their challenges, either.
In the kitchen...
...it's fairly tidy, except for the sink and a floor that needs sweeping.
I am wearing...
...it's a bit chilly this morning so I am wearing the green T-shirt over the green "Mutts" pajama bottoms. However, it's not cold enough for socks, so I just have my scuffs on.
I am creating...
...I bought several small things at Michaels over the weekend; the checkout clerk saw my intent immediately and commented on it. However, if I say what I bought it ruins the surprise for whomever later receives the gift.
I am going...
...to have to make time for another trip to Michaels, as there is a 50 percent off coupon and a 20 percent off total purchase which
does
include sale items.
I am wondering...
...if it is worth doing an inter-library loan for a book it doesn't have, when the book contains information I'll never need. It just looks interesting.
I am reading...
...
Dorchester Terrace
, the newest Charlotte and Thomas Pitt novel from Anne Perry, which I just picked up at the library yesterday. I'm also still in the midst of the Monks of New Skete book
In the Spirit of Happiness
; one of the vintage books I bought on Cape Cod in 2010,
The New England Year
(a bit of a cross between Gladys Taber and Eric Sloane), Stein's
How the States Got Their Shapes 2
, and, because I was reading a free e-book about the Christian themes in
To Kill a Mockingbird
, I'm re-reading the novel on my Nook.
I am hoping...
...to get some sleep over the weekend. Easter Saturday chat was smashing, but I really, really shouldn't stay up after 1 a.m. any longer.
I am looking forward to...
...Atomicon! The spring Jonquil Festival in downtown Smyrna! And the next BritTrack meet'n'greet at the Marlay House!
I am learning...
...or I will tonight, what goat tastes like. We found some odd-size pieces of goat meat at Kroger on Sunday. I am thinking they were leavings from goat haunches or roasts that some people might eat traditionally for Easter. We'll see!
Around the house...
...quiet right now. Even Schuyler isn't peeping. Outside, shrill birdcalls. Ah, yes, nesting season.
I am pondering...
...memories. Dug up a WENN chat log last night in response to a question. Wonder what happened to all these folks--Rebecca, Emerie, Lee, Doug...
A favorite quote for today...
"God gave us memory so that we might have roses in December."...James M. Barrie
Or autumn leaves in April. :-)
One of my favorite things...
...is heading to its close: the last few episodes of
House
are to be broadcast in the next few weeks. I'm glad the series isn't going to drag out until it gets boring; certain aspects of the show are already getting a bit tedious. Hugh Laurie's done a tremendous job with this role. Now he can go back to not limping and talking in his real voice.
A few plans for the rest of the week:
Hair Day is this weekend. Still not sure what we'll bring.
A peek into my day...
...as a nod to spring, here's a shot of Smith Creek at last year's Atomicon, up in the North Georgia Mountains at Unicoi State Park.
If you'd like to participate, check out
The Simple Woman's Daybook
.
Labels: Simple Woman's Daybook