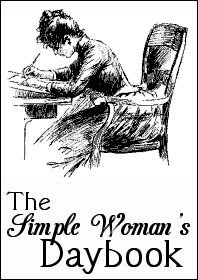 I haven't done one of these in over a week and thought I would indulge.
FOR TODAY, MARCH 10, 2012Outside my window...
...night is dark and velvet outside. It is the Eve of Daylight Saving Time, not my favorite time of the year. I prefer it bright and light when I go to work and dark and still when I wish to relax after work.
I am thinking...
...of another summer coming. I do wish I could be happy about the coming of summer, but it simply means ill health, stress, and eternal running from one air conditioned building to another, trapped behind closed windows. It's not like my opinion has ever changed! In junior high I wrote a poem in favor of having school in summer and vacation in winter, when it's more fun outside anyway!
I am thankful...
...for a lovely day. We had a great time at Hair Day this morning, and had some great news about a friend's new job. Juanita and David also announced their upcoming wedding date—the same as ours!
In the kitchen...
...dark and quiet.
I am wearing...
..."Mutts" pajamas and white socks. It will be back to tank tops and shorts soon; the forecast is for the 70s all next week!
I am creating...
...I'm actually working on a little cross-stitch kit.
I am going...
...to go to bed as soon as what I am watching is over, although it is still standard time right now. Might as well get into the habit now.
I am wondering...
...if it will be a cooler summer than the past two. It would be a relief. I remember one summer when it didn't get over 90°F more than three days. That was a good summer.
I am reading...
...
Nancy Drew and Her Sister Sleuths
, a series of essays,
Bird Sense: What It's Like to Be a Bird
by Tim Birkhead, and
The Traitor's Gate
by Avi.
I am hoping...
...for a better week at work. I definitely did not get all accomplished that I wanted to this week.
I am looking forward to...
...nothing for a few weeks, really. Okay, my Rick Steves DVDs showing up. They had a stupendous sale, so I bought the whole set.
I am learning...
...several interesting things about birds, including the mechanism that makes some birds of prey have such excellent eyesight.
Around the house...
...James is downstairs in the "man cave," breathing plastic, Willow is asleep in his chair, and Schuyler is looking grumpy. :-) Oh, yeah, and there are books everywhere, but so what else is new?
I am pondering...
...any logical reason for the time change. If standard time is good enough for the Earth, it's good enough for me. :-)
A favorite quote for today...
"Daylight Saving Time is like cutting off one end of a blanket and sewing it to the other end to make the blanket longer." :-)
One of my favorite things...
...I'm watching via Netflix:
Edward the Seventh
(or
Edward the King
), which I first watched back in 1983 on WSBK-TV38. This is from 1975 and stars Annette Crosbie as Queen Victoria, Robert Hardy as Prince Albert, Felicity Kendal as Princess Vicky, and, right now, Charles Sturridge (now a director) as the young Albert Edward (Bertie). Later he will be portrayed by Timothy West. The first three parts paint a pretty grim picture of Bertie's childhood; while his brothers and sisters got to have a modicum of fun, he was a prisoner of his father's obsession to train him to be the best ruler in the world. He was not a stupid boy, but he didn't have a studious mind and would have preferred an Army career. Instead his mother denied him any responsibility as he grew up and then complained when he spent his time in frivolous pursuits! It's stagy like all British drama of the 1970s, but I'm enjoying it once again.
A few plans for the rest of the week:
Next week by now. More work. Maybe I can get a company to finally call me back! Maybe I can get a couple of quotes out of another company! Really, the lack of response is provoking.
A peek into my day...
Here's the cute little kid from the Winter Market this morning: a one-month old Nubian goat. She's being bottle fed, so the "Goat Cheese Guy" brought her with him. She bleated pitifully until he brought her little enclosure out where she could see people.
If you'd like to participate, check out
The Simple Woman's Daybook
. 
Labels: Simple Woman's Daybook