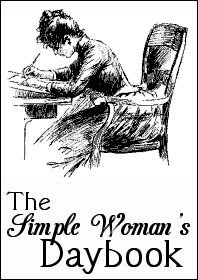 FOR TODAY, MARCH 27, 2012Outside my window...
...the sun is just, just rising, everything else still dark, but the eastern horizon which glows a yellowish-white. The trees are sketched dark against it. I can't believe how fast the trees have leafed! I had to call our lawn fella and ask him to cut the grass this week; the grass under the bird feeder must be over a foot high! ThuGreen is coming [again] Thursday as well.
I am thinking...
...of the work I want to get done today! I have one order that's almost finished, and at least one I know I can do. Hope there is more. It's March and we're already getting backlogged.
I am thankful...
...for teleworking today. It is cool right now and I can open the back door and get some air in the house to keep it cool for the afternoon. I'm also planning to dub off an episode of
Castle
at lunchtime. And take down the St. Joseph's altar. I guess I'll put up the Easter things some time this weekend. I feel so uncomfortable putting up Easter decorations
before
Easter. It doesn't seem quite right their being up on Good Friday.
In the kitchen...
...dark. Just finished boiling the water for my oatmeal and now it is quiet again.
I am wearing...
...a black tank top and shorts and purple-flower scuffs.
I am creating...
...cleanliness. Before I start work I am going to tidy up my desk a little. Horizontal surfaces around here collect so much junk. I have too many things on the desk that are just being stored there: an old cassette, a voice recorder we received as a gift, instructions for assembling a Lego snowman, etc.
I am going...
...to have to get a tray to keep all my post-it notes corralled. I use many different kinds during my work: tabs, lined notes, tiny notes to indicate which of my orders have 653 forms and what the status of that form is, super stickies, etc. It's getting hard to keep them corralled.
I am wondering...
...what James and I can do to sleep better. I'm not sure which of us is the more restless sleeper! In any case, I can't wait until pollen season is over. I'm tired of the perpetual headache. (Of course I'm not sure I can wait until October.)
I am reading...
...
How the States Got Their Shapes Too
and
Parish the Thought
, as well as the advance reading copy of a book about bird senses, called [surprise!]
Bird Sense
. Yes, I was reading those last week. I keep getting interrupted by magazines and Hamilton Book catalogs.
I am hoping...
...I get everything I want off the DVR before the fool thing fails. Every time it updates it doesn't. It is scheduled to update every morning at 6:20 a.m. Yet every other day if I go to look at what's on the schedule ahead four or five days, it tells me the information is outdated, even though it may have "updated" six hours earlier.
I am looking forward to...
...LOL...
not
having to wash the dog this weekend.
Around the house...
...a little chilly as I booted up the computer this morning. I was up early enough to run the vacuum cleaner around my workspace and that warmed me up. :-) Schuyler staring sleepily at me. Willow got out of the chair to give hell to the vacuum cleaner and has now returned to her slumber.
A favorite quote for today...
"Everything is blooming most recklessly; if it were voices instead of colors, there would be an unbelievable shrieking into the heart of the night." ~Rainer Maria Rilke, "Letters of Rainer Maria Rilke"
Evidently Herr Rilke didn't listen to the birds. "Unbelievable shrieking" is right. As well as a woodpecker drumming on the gutters to get the maximum vibration out of it.
One of my favorite things...
...blue merle collies...I love the silver and black combination! Sometimes they come with blue eyes.
A few plans for the rest of the week:
More purchase orders, more 653s...not sure what I'm doing about Friday. Goodness! Maybe I'll actually sit down and cross stitch? (But more likely I will end up cleaning the bathrooms...so it goes.)
A peek into my day...
As usual, I've waited to do the photo until later. But my day's boring...how about a peek at this little cutie instead?
If you'd like to participate, check out
The Simple Woman's Daybook
. 
Labels: Simple Woman's Daybook