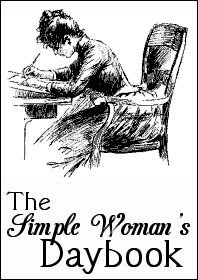 FOR TODAY, MARCH 20, 2012Outside my window...
...it's still dark; with DST the sun won't be up for another half hour. It makes me very sleepy. :-) It's supposed to be another scorcher today, 84°F! In March! It's been so warm all winter we have pine pollen about three weeks ahead of schedule. Everything is tinted yellow and the pollen blows in little drifts like sand. You have to keep your windows tightly shut or it's like the dust bowl.
I am thinking...
...since it's spring, I'm already thinking about vacation. Probably because that comes in the fall. :-) Really want to go back to Washington, DC, to see the remodel of the American History Museum, to see the American Indian Museum and the Post Office Museum...and I've never been to the National Zoo! I'd love to go there.
I am thankful...
...for a better night's sleep last night, although I did wake up several times. Yesterday I arrived at work with a headache from the fourth night in a row of not sleeping properly; the headache was so bad I was sick to my stomach. I had to take four ibuprofin to even get it to lessen; part of a candy cane thankfully took care of the nausea. God bless peppermint!
In the kitchen...
...quiet and dark. James has some chicken marinating in the fridge for dinner tonight.
I am wearing...
...blue tank top and aqua shorts and flower-print scuffs. It's too warm for anything else.
I am creating...
...I'm in the middle of a cross-stitch, but it's a gift, so I can't discuss it here. I bought the magazine just for the kit!
I am going...
...slightly crazy. I keep running into obstacles on my purchase orders. Numbers are wrong, part numbers can't be found, things don't complete in ICE, or vendors aren't in the system. Plus having the A/C on is already making me feel closed in and trapped.
I am wondering...
...how on earth people manage to text and drive (because you know they're still doing it despite the admonitions on radio and television) and survive! All I had to do yesterday was turn on a Rick Steves podcast and then put my map on, with the phone on a holder right in front of me, and I had to stop to be able to do it without running into someone. How you would type coherent words is beyond me! And
why
you would want to do it as well.
I am reading...
How the States Got Their Shapes Too
by Mark Stein and a memoir about growing up Catholic,
Parish the Thought
. This latter was published by Pocket Books and the typos are terrible; mostly homonymns, which the automatic spellchecker will not catch. Does no one proofread books any longer?
I am hoping...
...this will pass and we'll get more appropriate spring weather soon.
But I am not holding my breath. (Oh, wait, I need to hold my breath because of the pollen. I've seen more than a few people walking around in medical masks.)
I am looking forward to...
...Atomicon! Perhaps with all the flowering happening at the same time, even up north, the air will be a bit more clear at Unicoi.
Around the house...
...just waking up noises: Schuyler crunching birdseed, Willow's collar-tags jingling as she turns over on her chair, the hum of the computer.
I am pondering...
...why I never finish these things on time. It's now Thursday, March 22.
A favorite quote for today...
"Spring is sprung,
the grass is riz--
I wonder where
da boidies iz..."
(recite it in a Brooklyn accent and you will get the effect originally intended; in my case I know exactly where da boidies iz: they're shrieking outside!)
One of my favorite things...
...Christmas! "Rudolph Day" is coming up on the 25th and I am reading the book James bought me,
Christmas Wishes
. I will put a review of it in Holiday Harbour, but I can tell you right now it is delightful!
A few plans for the rest of the week:
We need to make a trip to BJs. Vine Day is today. Ken's birthday gift should show up today.
A peek into my day...
A scene I see a lot on summer mornings: sunrise from my car, on the way to work. (This is about 6:20 a.m. in August.)
If you'd like to participate, check out
The Simple Woman's Daybook
. 
Labels: Simple Woman's Daybook