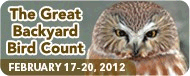 I didn't want to sleep late. Alas, my body betrayed me. At least it was only until 8:30. After breakfast, it was vacuuming time; I even did the kitchen. Put the Christmas magazines downstairs until I have time to tear out the pages I want to keep. Cleaned off the floor in the craft room and put some things away. Backed up my hard drive and e-mail boxes. Refilled the bird feeders, of course, and watched off and on all day for the bird count.
At lunch time I went out to get gasoline for the car. I passed up the Village Store, at 3.45
9
to go to the QT on Austell Road, only to stare open-jawed at 3.
5
5
9
on their signboard. Passed it up and went to Lowes for an HVAC filter and a couple of 3-foot extension cords to replace the ones I put up with the Christmas things. I also nipped into Office Max and bought a multicolor pack of Bic pens which will be good for cards.
More time watching birds and working on a project that's almost finished. This has been a disappointing bird count year. I have seen no goldfinches, although some were hanging around last week, and no mourning doves. Mrs. Cardinal finally showed up today, but no sign of Mrs. Downy [Woodpecker] like last week. I have not seen a lot of doves at all since the hawk set up housekeeping in our neighborhood. It appears to be keeping the squirrels down, but I think it's also noshing on the doves. I remember during a storm one year having eighteen mourning doves sitting on the deck railing, and there have always been a few sitting out in the tree or courting on the rail.
Steak and potatoes for supper, and am now watching
Antiques Roadshow
while
House
records (well, it had
better
be recording!).
Labels: birds, food, shopping, television