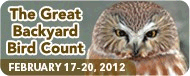 I apparently put all the three-foot extension cords away with the Christmas things.
So this was on my mind this morning when I went to Walmart to return the headlamp for James' truck that didn't fit. Amazingly, there was no one at customer service when I arrived. So I was technically there looking for extension cords, but the first thing I bought was birdseed, as Schuyler's wild cousins have gobbled their way through another half-bucket of seed. I bought 42 pounds of birdseed, mostly the coarse kind, but ten pounds of finch food, five pounds of niger seed, and seven pounds of safflower as well. The little "brownies" [brown-headed nuthatches] will have a feast!
By dint of wandering around the whole store several times, I bought soy isoflavones, two cute light nightshirts (one with Eeyore on it, and other with "Pussyfoot" from the Looney Tunes cartoons), a gift for James for Valentines Day and also two pairs of diabetic socks that he needed as well as a clearance Christmas shirt which says "Nice Until Proven Naughty," a gift for his Mom, some nightlight bulbs, and even two books on clearance,
Clara's Kitchen
(Clara, the Italian lady who cooks frugal foods and has her own cooking "show" on YouTube) and
Chicken Soup for the Pet Lover's Soul
.
I had lucked out! I was approaching a cashier who had no other customers! Then it occurred to me to look at my list. Arrrgh! I'd forgotten the 11x14 picture frame which I've needed practically since we moved in the house. So I went back for it. And, you guessed it, by the time I got back that cash register was closed and I had to pick my line.
And I forgot to look for extension cords. Grump.
Had some Kashi Go-Lean cereal for lunch—yum!—and spent part of the afternoon working on a craft gift while watching episodes of
Lassie
off Angel Two. They are finally showing new ones again instead of repeating the last ten they showed, except that they've gone back to the Jeff episodes. Saw "The Tractor" and "Goats" while I was working. The gift still needs a small fillip, but it's essentially done. Boy, did it shed, though. I had to vacuum when I finished.
James got home early because he worked overtime earlier in the week. We ended up both dozing off in front of the television.
Went to the new Chinese buffet for supper; this is near our old house. Since they closed the Food Depot in that shopping center, the place is mostly deserted and so dark I fear getting mugged. The buffet is okay, no better or no worse than any other Chinese buffet.
I told James the Walmart had some sweatshirts and pants on clearance, so we went back and he got a couple of different color shirts and one pair of pants, and some lighter flannel pajama pants (in camo) for at night. I bought a couple of gifts, and...well, something surprising for me: a Valentines Day sweatshirt. In pink. Anyone who knows me knows I loathe pink. But all the red and black sweatshirts were slightly salacious, and this was at least a nice pink with a bluish tinge, with a red heart pattern on the front.
If I'm lucky, it might even be cold enough on Valentines Day to wear it to work. But I won't hold my breath.
Oh, and we did check out the extension cords, only to find that Walmart doesn't carry 3-foot ones. We did find one small set of shelves with Christmas clearance, mostly cookie cutters and those cheap thin wire hooks they make today, some badly picked over picks, a few gift sets, mounting hardware for lights. Oddly, they still smell like Christmas. ::sigh:: Wish it
was
still Christmas...
And then off to watch
Alaska Wing Men
.
Labels: books, Christmas, food, shopping, television, Valentines Day