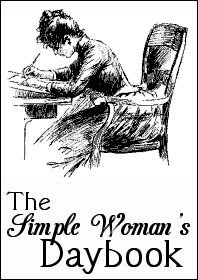 FOR TODAY, FEBRUARY 9, 2012Outside my window...
...pitch dark. Didn't have time to do this yesterday or this morning, and, sorry to say, didn't feel much like doing it, either.
I am thinking...
...too damn much, which may explain why I couldn't sleep last night. Or maybe it was just that my allergy is bothering me already. It's been so warm we have trees budding and flowers blooming, and I'm waking up with a stuffy nose and a headache, and my knees wake me up in the middle of the night. Plus today would have been my mom's birthday. That always makes me depressed.
I am thankful...
...for being able to have worked my schedule the way it did on Wednesday. I have not been feeling at all well this week, run-down and headachy. Since my eyes are itching, I think it may be from my allergy. And folks ask why I want winter to last!
In the kitchen...
...James has put dinner away long ago so Willow would keep from begging for the leftovers. So it's all quiet on the western front.
I am wearing...
...a purple sweatshirt and socks, and grey sweatpants. I've had chills part of the day, so it feels good.
I am creating...
...nothing much now. I did fix a picture frame which fell off the wall (the hangar device is made of cardboard and had split through). It's too pretty a frame to give up on.
I am going...
...well, sometimes it seems like I'm going nowhere. Still spooky talk of reorganization at work. Don't like that at all.
I am wondering...
...what I'm wondering won't do me any good. You can't make things happen just because you want them to.
I am reading...
...
Names on the Land: A Historical Account of Place-Naming in the United States
by George R. Stewart (a reprint of a classic book written during World War II) and
Bryant & May on the Loose
, the next in the Peculiar Crimes Unit book series. Just finished
A Marked Man
by Barbara Hamilton, second in the Abigail Adams mystery series.
I am hoping...
...to feel better tomorrow. I have at least a half dozen new purchase orders I haven't printed out yet, and at least two to get moving tomorrow, four if ITSO actually completed the other two (we have some new classification codes that haven't been added to the system, so we can't complete our own orders; the IT folks have to do it for us). The hamster wheel never ends.
I am looking forward to...
...a date in April (yeah, even if it will be hot as hell by then)! They are doing a World War II music retrospective at Ragamuffin Music Hall on April 21. Sounds sooooo cool.
I am learning...
...to live without something that used to make me happy. Can't be helped.
Around the house...
...books everywhere, as always. No room in either pantry or the cupboards for the couscous and other grains we bought at DeKalb Farmers Market. Or the Kashi Go-Lean. So they are cluttering up the kitchen table, dammit.
I am pondering...
...sleep. I haven't gotten more than six hours sleep any night this week, even when it was available. I'm exhausted.
A favorite quote for today...
For today? From a
M*A*S*H
episode: "No wonder they shoot people at sunrise. Who wants to live at six in the morning?"
One of my favorite things...
...the British series
Pie in the Sky
, with Richard Griffiths as police detective and gourmet Henry Crabbe. We just got the first disk of the final season from Netflix. Maybe we'll watch it tomorrow night.
A few plans for the rest of the week:
Not much week left. Some
Pie
, perhaps. Oh, and maybe doing the taxes.
A peek into my day...
(Naw. Won't do that to you. <wry grin>)
If you'd like to participate, check out
The Simple Woman's Daybook
.