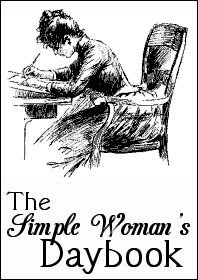 FOR TODAY, FEBRUARY 23, 2012Outside my window...
...I am writing this rather later than usual (hour-wise as well as day-wise), so it is sunny out, a bit watery sunlight, as there are still clouds. Later this evening we are supposed to have bad weather, but right now it is warm—72°F within and without. Crazy weather for February.
I am thinking...
...how time flies! I have been looking at Willow and keep realizing with a jolt that she will be fourteen next month. You can see an arthritic step more often, a dulling of the senses (except when one says "cookie"), how she can't dance on her hind legs the way she used to.
I am thankful...
...for our having had her for so long. We lost Leia much too soon.
In the kitchen...
...bare except for a dishwasher that needs loading. James was on a furlough day yesterday, so he cooked then and we are having our usual potluck today instead. This means I need to cook some rice later on.
I am wearing...
...the exterminator was due today (he came a couple of hours ago), so I am in light blue scrubs pants (great outfits for wearing around the house) and an old Kelly green top, and purple socks. I look like a demented Easter egg.
I am creating...
...since I've finished the gift for [mumble] and the other gift for [mumble], I'm between projects. I need to look in my Christmas boxes and within my crafts to see if I might work up useful or pretty gifts this year. We already have a couple of gifts tucked away for this year!
I am going...
...to do a little more decluttering soon. I have some stuffed animals who are not being loved; I will clean them and donate them to some child who will hug and love them the way I did my own animals (rather than those everlasting tiresome dolls). Should probably clean out some crafts I don't intend to do—or do them!
I am wondering...
...if we'll have another scorcher summer like the last. The very thought makes me tired. It has been such a depressing winter—hardly cold at all. All too soon it will be A/C time, running from one hermetically-sealed building to another just to escape the heat. Such a weary, miserable time of year.
I am reading...
...
Names on the Land
still, a nice thick information-filled book. Did you know Dayton, OH, was named after a man who was disgraced after he sided with Aaron Burr?
I am hoping...
...for a cooler weekend. The forecast is for only 52°F on Saturday, which should make it comfy in the "snug" at the Marlay House...yes, it's time for another Meet'n'Greet! Hope they still have the lamb stew!
I am looking forward to...
...wait, I just said that. LOL. And Atomicon and the World War II concert at Ragamuffin.
I am learning...
...LOL...wish I was learning
not
to want expensive gadgets. At least I haven't bought them.
Around the house...
...fairly quiet. Schuyler is alternately kissing me and preening. Willow is lying down nearby. The windows are open because of the incredible temps and I can hear all manner of birds declaring their territory and the tinkle of the wind chimes in the yard, and the whoosh as the wind gusts in the trees.
I am pondering...
...where to go on vacation. Yeah, I know that's in October, but I'm already restless and wishing for fall.
A favorite quote for today...
"The open road is a beckoning, a strangeness, a place where a man can lose himself." – William Least Heat Moon
(Or as the Partridge Family song put it: "Nothing I know beats this feeling of not knowing where you're going and what you're going to find.")
One of my favorite things...
Foyle's War
! If you've missed this British mystery series starring Michael Kitchen and Honeysuckle Weeks, you've missed a treat. Takes place during World War II, although in the final episode the war had ended. There has just been news that there will be another set of three episodes next year. Hurrah!
A few plans for the rest of the week:
Work, mostly! A chance to air out the house, then a gathering with friends. And the usual grocery shopping. And Vine this afternoon!
A peek into my day...
How about a peek into a craft? Here's Mike and Jen's wedding gift: they went camping on their honeymoon, on the Upper Peninsula of Michigan. This little shadow box was made as a remembrance for them, with parts from the nice folks at Country Pickins'. Click on it for a closer look.
If you'd like to participate, check out
The Simple Woman's Daybook
. 
Labels: Simple Woman's Daybook