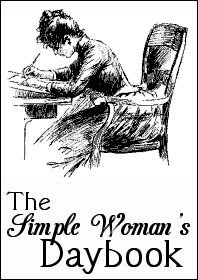 FOR TODAY, FEBRUARY 14, 2011Outside my window...
...it is grey, rainy and chilly. Not as cold as it was over the weekend, or as dry.
Tomorrow it's going to be 65°F. If you don't like the weather in Georgia, wait a minute.
I am thinking...
...mostly about work. Couldn't do a couple of orders yesterday because they had not been completed in the system (there's a glitch and we can't do them ourselves anymore) until just before it was time to leave. I can finish them tomorrow, and have two more I can do today.
I am thankful...
...that I am not driving to work today. Rain in Atlanta is just "liquid stupidity." Regular traffic is bad enough; yesterday two people passed me on either side on I-75...I was doing 70MPH, so heaven knows how fast they were going. Then I had to get into the left lane to go through the Brookwood curve—a pickup truck behind me (with only one occupant!) used the HOV lane to pass me, and then cut right two lanes in front of me to get back in the I-75 South lane. Maniacs.
In the kitchen...
...quiet and dark. I've just finished mixing my oatmeal and there's a nice maple scent coming from the bowl. Every time you pass the dining room table you get a faint whiff of the container of crushed peppermint leaves that we bought at the DeKalb Farmers Market.
I am wearing...
...my green Myriad sweatshirt and gas-flame blue sweatpants and pink socks.
I am creating...
...does having finished something count? But I can't talk about it because it's a gift I haven't delivered yet.
I am going...
...to hopefully enjoy this weekend: we have a long one. James has Thursday off for working Sunday, and has Friday as a furlough day.
I am reading...
...
Names on the Land
, a 1944 book about how places in the U.S. got their names (it was updated in the late 50s to include names in Alaska and Hawaii), plus doing a chapter or two in
December 1941
, and for my Rudolph Day reading I'm reading an ethnobotany of Christmas called
Pagan Christmas
.
I am hoping...
...to make some new discoveries this weekend. Perhaps we can go to the Buford Highway Farmers Market. We keep reading about it in the newspaper every time someone is looking for an ethnic food or spice.
I am looking forward to...
...five days off in a row! And hoping to talk to someone I haven't spoken to in a while.
And the Great Backyard Bird Count this weekend!
I am learning...
...about the place names: did you know "Platte" and "Nebraska" come from the same root source? That Wheeling, West Virginia, isn't named after the wheel, but is a Native American language name for placing a head upon a pike?
Around the house...
...still mostly dark, except where I have a light on. I won't describe the books everywhere this time. LOL.
I am pondering...
...why celebrities are so unhappy that they take drugs or drink to excess. :-( I don't get it myself.
One of my favorite things...
...curling up under blankets in the wintertime and having a good sleep. I sleep best when under covers, which explains one of the reasons summer is such an ordeal. If I have light blankets or it's too warm for any at all, I do not feel cozy enough to sleep soundly. I hear Dr. Oz recommends getting your room as cool as possible to help you sleep, even if you have to turn the room temp down into the mid-60s. Just wish I didn't have to do it with the whole main floor!
A few plans for the rest of the week:
Hangin' out with my sweetie for four days. We aren't doing much for Valentines Day. I bought him a couple of DVDs and he bought me a book. I'm allergic to flowers and candy is fattening.
A peek into my day...
...very simple: me, sitting in front of a computer, filling in blocks, answering e-mails, squinting at small print, and listening to "The Tech Guy" or "A Way With Words." 
If you'd like to participate, check out
The Simple Woman's Daybook
. 
Labels: Simple Woman's Daybook