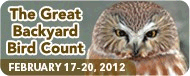 Simple math: James worked Saturday, so he had today off. His days off don't usually coincide with my Fridays off, so this was a rare gift.
Of course like the couple of middle-aged duffers we are, we slept late, then had breakfast. Following that we had one Christmas-related task left: we had to take the rest of the outside lights down. I had taken the strings off the railings when I put up the winter decorations, and then taken those strings and the ones off the bushes earlier in the week and put them in the garage. Now James got the ladder and got the rest of them down, and we wound them around paper towel tubes and put them away, dismantling the Moravian star as well, and cramming the octopus extension cord in the container as well.
At noon we drove to Hiram, had lunch at Folks, then went to Michaels. I needed a couple of small frames, and we also went through the clearance items. They had solid color Christmas wrap for 59 cents, so I got a pretty burgundy, a forest green, and a spring green. They will look pretty with appropriate bows. Also got some sale ribbon, and two things to put away as gifts. I need to start looking for a basket of spring/summer flowers for the porch. The one I have is sadly faded by the sun. I don't decorate much for warm weather—not only don't I feel like celebrating it, but the sun tears everything else; I'll have to dig up the photos I took of the two-year-old summer banner I had to throw away last fall because it was literally shredded by the sun.
We also went to Sam's and got some low-carb wheat tortillas, a book about healthful supermarket shopping, and a big bag of luscious-smelling naval oranges.
Spent the rest of the afternoon watching
Lassie
reruns.
Labels: chores, Christmas, decorating, shopping, television