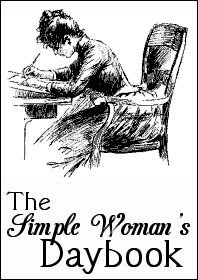 FOR TODAY, JANUARY 31, 2012Outside my window...
...the sun is just rising, not yet having gained the horizon to tangle itself within the trees. There are hot pink streaks against dark, gradually lightening blue. And, goodness, the bird feeders are empty again!
I am thinking...
...mostly of the things I need to do today. I have purchase orders to assemble and start, others to continue, and clothes to wash. At lunch I need to sweep the bathroom and put the new rugs down. (Over the weekend we bought two more microfiber rugs for the master bath. Costco had them for half the price of Bed, Bath, and Beyond.)
I am thankful...
...it's so quiet here. At the office I have to listen to what I think is the compressor for the HVAC system, my fan, people murmuring, the hollow sound of the hallways. The only sound here is the faint hum of the computer and the heat and whatever other sound I want (Leo Laporte later on). Oh, and Schuyler kissing and whistling, but those are pleasant sounds.
In the kitchen...
...quiet for now. Loved the Christmas goodies, but it's nice to have it plain again. James did something interesting last night; instead of using a starch as a side, he made cellophane noodles, made from beans. Worked pretty well.
I am wearing...
...it's going to be warmish today, so the green t-shirt and the "Mutts" pajama bottoms, with black fuzzy socks.
I am creating...
...nothing at the moment, having taken a break from crafts after Christmas. There's an unfinished cross-stitch sitting on the back of the sofa to attest to that.
I am going...
...oh, occasionally I think I am going crazy, but working government procurement will do that to you. :-) I really don't have anything planned. Really need to do something about the curtains in the bedroom, though. They slide over enough that light comes in. Want it dark! Do they make black window shades any longer?
I am wondering...
...about everything...always. Why people hurt one another. Why friends grow away. Down to little things about James' health and Schuyler's happiness. No wonder I can't sleep well at night.
I am reading...
...
Letter Perfect
, the story of the alphabet;
December 1941
, which James finally finished, and
A Marked Man
, a mystery featuring Abigail Adams as the sleuth.
I am hoping...
...the groundhog sees his shadow! It's already been too warm this winter! Evidently snow decorations all over the house do not act like voodoo dolls. :-) But the forecast says "partly cloudy" for Thursday. Bet that stupid oversized squirrel comes out when it's overcast.
I am looking forward to...
..."Christmas in February"! We have not yet had a chance to exchange gifts with the Lawsons, but an upcoming game night should take care of that. Looking forward to it!
I am learning...
...well, I'd like to say I was learning a lot of things about December 1941, but the book is riddled with errors, both typographical and otherwise. According to this book, Jesus was born in Jerusalem. Proofreading, what's that? Pity, because the author is trying to give a "snapshot" of American life at the time, and the pop culture references of the time are a lot of fun to read.
Around the house...
...warm and quiet. Books everywhere. About normal.
I am pondering...
...autumn. It's a good thing to ponder as spring looms. It's been so warm flowers are blooming, which I'm sure contributes to my sneezing.
A favorite quote for today...
...just substitute "Atlanta" for "Seattle" and you've got it...LOL.
"I gave three quiet cheers for Minnesota. In Seattle a dusty inch of anything white and chilly means the city lapses into full-on panic mode, as if each falling flake crashes to earth with its own individual baggie of used hypodermic needles. It's ridiculous."
― Cherie Priest,
Bloodshot
One of my favorite things...
...I'll listen to it later on: Leo Laporte's
"Tech Guy" podcasts
. I don't always use the tech they talk about, but I do usually get a tip or two, several laughs, and can snooze during the Apple chat.
A few plans for the rest of the week:
Work. "Christmas in February." Maybe a trip to Books-a-Million. Barnes & Noble is so boring and annoying...people clogging the coffee shop for hours and sitting in the aisles with their laptops using the wifi. Booooooo!
A peek into my day...
...well, the usual: we call this "Waiting for Daddy":
If you'd like to participate, check out
The Simple Woman's Daybook
.
Labels: Simple Woman's Daybook