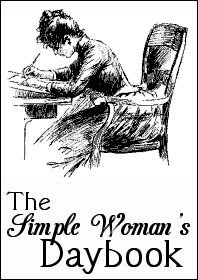 FOR TODAY, JANUARY 25, 2012
(first post of the year!)
Outside my window...
...the sun is just rising, but it's not very bright, as it is overcast.
I am thinking...
...actually I am trying not to think. My nose is stuffy and I did not sleep well at all last night; my eyes are gritty and heavy this morning.
I am thankful for...
...I'm afraid I'm not much thankful this morning, either. All my effort is into keeping my mind on my work. I'd love to have some soup for lunch. Maybe I'll truck over to the new Kroger and see what's on the soup bar.
From the learning rooms...
...never trust the status quo. Still really spooked by talk of reorganization at work.
From the kitchen...
...oh, gosh, I hope it's nothing. Christmas completely tired me of sweet treats. I want to go back to ordinary food.
I am wearing...
...a purple sweat shirt, grey sweat pants, and pink socks. (Yes, I have new socks and new sweats. Soooo exciting!)
I am creating...
...little at the moment. Post-Christmas depression has gotten me really down.
I am going...
...to attend to my work and not much else today. Not feeling up to it and still not perked up after the holiday. I really hate this time of year. Everything had been so pretty and now it's dishwater dull again.
I am reading...
...
A Pocketful of History
, which is the story behind each of the images on the back of the state quarters.
I am hoping...
...for a perk-up this weekend. There is a Brittrack Meet'n'Greet upcoming, and also Hair Day.
I am hearing...
...not even the heat coming on. It's very warm, in the 50s, and going up to the 60s today. Not exactly January weather, even in Georgia. For the last two weeks, the news has been showing photos from the snowstorm last year. It's hardly believable this year!
Around the house...
...morning quiet. Gloom until I put on the light. And books all over the place. Go figure. :-)
One of my favorite things...
...
Lassie
reruns, which are now showing on Angel 2. Well, that is, when they're not repeating episodes multiple times. :-)
A few plans for the rest of the week:
Many more purchase orders to work on! We don't have any slowdown this year. And I do hope to feel better tomorrow. Need to take some ibuprofin later on, and before bed to help the process along.
Here is a picture for thought I am sharing...
This is a lovely photo I've never seen before.
This series has always been my favorite. Oh, it's terribly old fashioned now, and sometimes corny, but it comes with a feel-good factor, doesn't talk down to its audience like today's programming, and there are no stupid jokes about urinating or farting. 
If you'd like to participate, check out
The Simple Woman's Daybook
. 
Labels: Simple Woman's Daybook