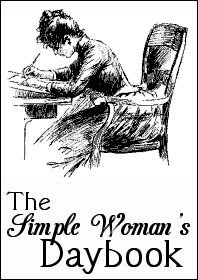 FOR TODAY, DECEMBER 8, 2011Outside my window...
...sunny already, and very cold, which suits me just fine. Before the cold front moved in, I was aching in every joint and limping.
I am thinking...
...about putting up the Christmas tree, which will consume me tomorrow. It's a long job, but usually a happy one. I have to remember to corral all the new ornaments that will go on the big tree. I even have a shopping bag ornament from Bronner's!
I am thankful for...
...
Lassie
! I've found some reruns on Angel Two! They're showing the earliest episodes, with Jeff.
From the learning rooms...
...watched an interesting Pearl Harbor special last night, about events following the attack. Apparently President Roosevelt had a terrible problem with his sinuses; without penicillin at the time there was nothing to treat infections with. So his personal physician used cocaine dabbled on the inner part of his nostrils to reduce the swelling of his sinuses so he did not sound "stuffy" when he made the "day of infamy" speech.
From the kitchen...
...well, we have gingerbread mix. I'm waitin' on it. I really want to find some Dromedary mix. I haven't seen it in any of the stores. We bought Betty Crocker, but Dromedary is better.
I am wearing...
...my Lassie sweatshirt and blue sweatpants, with white socks.
I am creating...
...just finished putting together a cross-stitch project to include in a gift! Haven't had much time otherwise with the Christmas decorating. Oh, and I finished the letter that goes in the Christmas cards...now if I can only get to the Christmas cards...
I am reading...
...
Pearl Harbor Christmas
by Stanley Weintraub. Weintraub appears to be making a career of writing about American historical incidents taking place at Christmas.
I am hoping...
...for a pleasant birthday weekend. We usually go to the Atlanta Radio Theatre Christmas show, and then go out to eat at the Colonnade.
I am hearing...
...the soft hum of the heat kicking in, Willow's collar tags jingling, the hum of the computer starting up for the day.
Around the house...
...Christmas-sparkly, almost everywhere you look. I just realized I still haven't decorated the bathroom yet, but the longest part of that is putting the soap in the snowman dispenser!
I am pondering...
...something depressing that happened news-wise over the weekend: the rape and murder of a little girl. What sort of terrible person does this, whether to a child or to an adult? What sort of thrill can someone get out of a hideous act? Baffling. Sad.
One of my favorite things...
...Christmas magazines! I buy at least a dozen at Christmastime. I read the fluffy ones first, like "Women's Day" and "Better Homes and Gardens" first, leaving the cool ones like "Early American Home Christmas" and "Victorian Homes" for a final savor. I did read "White House Christmas" first...I couldn't resist; it looked so pretty.
A few plans for the rest of the week:
Christmas tree! And after that my birthday.
Here is a picture for thought I am sharing...
Just plain cute!
If you'd like to participate, check out
The Simple Woman's Daybook
. 
Labels: Simple Woman's Daybook