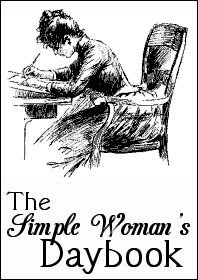 FOR TODAY, DECEMBER 29, 2011
(last post for 2011)
Outside my window...
...frosty! Everything was white with frost this morning, especially in the shade. When I went out to fill the bird feeders, even the deck boarding glittered with frost.
I am thinking...
...what I usually think at the end of December: "Another year shot to hell," a half-amused, half-despairing commentary. The days go by, especially in the summer, with excruciating slowness to match the excruciating heat.
But the weeks go by so
fast
. Christmas has
flown
by and I feel as if I've always been a half-a-beat behind.
I am thankful for...
...use or lose. These two weeks have been such a relief to decompress in, even if I still had cookies to bake and the last few gifts to purchase. What was left was fun.
Do you know this week and last I have forgotten to take my Prilosec more than half the time, and I have had bad indigestion only once (and that was on a day I
did
take the Prilosec)? This pretty much proves much of my acid reflux is caused by stress.
From the learning rooms...
...I am reading Jeffrey Seals'
Santa
, which is a history of St. Nicholas. Besides the odd little convention he has of assigning Nicholas the power of determining what happens to his legend after he dies, it's pretty neat as a travel and history book.
From the kitchen...
...blessedly quiet and halfway clean. I just need to load the dishwasher.
I am wearing...
...my pine-green "Myriad" shirt and pale blue sweatpants with white socks. Cozy warm.
I am creating...
...still working on a project for some friends. It will be the Sunday after New Year before the project can come to fruition (unless there's a continuation—arrrgh).
I am going...
...to put a last few things in the boxes going to Goodwill and going to the library for donation purposes. If I didn't like the book, or don't remember the plot, I probably won't re-read it. No use in keeping it then.
I am reading...
...
Santa
, as I mentioned,
The Heart Comes Home At Christmas
(a collection of Marjorie Holmes), and
A Book of Feasts and Seasons
by Joanna Bogle.
I am hoping...
...to have a few more relaxing hours! I know we must still transport to Goodwill and the library, but I'm loathe to have my holiday over. Luckily Monday is considered a holiday. And we still have movies we want to see!
I am hearing...
...the heat running. It's chilly this morning, about 30°F, but going up to the low fifties. Otherwise it is quiet for now.
Around the house...
Christmas things still everywhere. I have still about ten Christmas magazines I never have gotten to, including the Christmas "Early American Life," which I adore. Must tidy up some, if nothing else to get a start on next week's party prep!
I am pondering...
...the end of the year...things left to do...things ahead...places to go, people to see...so many books, so little time...http://www.blogger.com/img/blank.gif
One of my favorite things...
...back to Christmas music. Yes, I am still listening to it—we celebrate the Twelve Days of Christmas here! When I need a boost in midsummer, Christmas music is always there to see me through.
A few plans for the rest of the week:
Donations for taxes, using my coupon for a free dinner in my birthday month at Fresh2Order, putting the new stickers on the cars before the stroke of midnight on New Year's Eve.
Here is a picture for thought I am sharing...
This brings back happy memories of the First Nights I spent in Boston with friends. Here's to Deb, and Mary, and Pat, and Gail, and Abby, and, not to be forgotten, MaryB... 
If you'd like to participate, check out
The Simple Woman's Daybook
. 
Labels: Simple Woman's Daybook