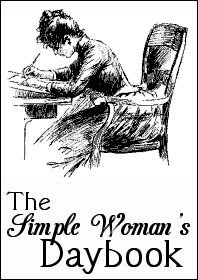 FOR TODAY, DECEMBER 22, 2011Outside my window...
...grey and cloudy. It is so quiet! Not a bird chirping! No heat on, because it's already in the 60s. What a day for the winter solstice!
I am thinking...
...how much I hate this warm weather. Winter should be cold. Yesterday when James and I were at Discover Mills, my fingers were swollen, it was so warm.
I am thankful for...
...our shopping being finally finished. I shop throughout the year, but there are always a few things left over to be purchased at the last moment. I should receive one last gift for James today and then I can put the Christmas paper away and finally tidy up the spare room. For a few weeks it has looked like the shipping room at Macy's. :-)
From the learning rooms...
I'm indulging in Christmas stories for a while. Alas, James has already begun the
December 1941
book, so I must wait until he has completed it.
From the kitchen...
...well, nothing there now. Our kitchen is that, a kitchen. No room for a table and goodies, really. Some tiny treats are there: dark chocolate covered pomegranite seeds and the like, but all the goodies are on the table: wine biscuits, Mexican brownies, a few chocolates, Emma's cookies.
I am wearing...
...green T-shirt over green "Mutts" jammies. It's too warm for anything else.
I am creating...
...Christmas memories! Schuyler and I are watching Christmas stories:
The Night Before Christmas
(how the poem was written),
The Little Drummer Boy
, and
Simple Gifts
.
I am going...
...to sit and enjoy Christmas for the next few days. It's been a fun rush, but an endless one, and I seem to have always been a few steps behind no matter what.
I am reading...
...
Santa
by Jeremy Seal, a history of St. Nicholas. We heard it abridged on the BBC last year.
I am hoping...
...that the storm ocming tonight won't be as severe as forecast. When it gets this warm with a cold front behind it, I am always worried. And thunder is simply out of place in December.
I am hearing...
...quiet! It's quite spooky! Not even a bird is singing.
Around the house...
...still some wrapping paper out in the spare room. I need to finish wrapping when James' gift comes, collate the trash, put up the table, and then sort out the wrapping paper. Some of the tape refills have fallen to the bottom of the Christmas gift wrap container and I have to fetch them.
I am pondering...
...the New Year already. Certain things need to be done that have not been done, and decisions must be made. does anyone else get tired of being a grown-up all the time? Never did understand those kids who were in a hurry to grow up! All they thought about was getting a car or a boyfriend. None of them ever thought about jobs, living responsibilities, and arranging for things like gutter cleaning and termite protection!
One of my favorite things...
...the tree with unopened gifts sitting under it. I never really think about what I'm going to
get
. It's nice to get wonderful gifts, but so much more fun to buy things you hope people will like!
A few plans for the rest of the week:
I still haven't taken my annual walk in downtown Marietta. It won't be the same without being able to end up at Willow Too Antiques. There's a flooring store there now. How commonplace. I wish there was still an old-fashioned drugstore, not CVS or Walgreens with the bright aisles, but the cozy kind like DiLorenzo's used to be (or Thalls before they remodeled it).
Here is a picture for thought I am sharing...
Look, as much as I love snow, I know it's a pain to shovel and a nightmare to drive in. But this combines the snow I love and a place I love: Bowen's Wharf in Newport. Cold without and warm within, the perfect embodiment of Christmas.
If you'd like to participate, check out
The Simple Woman's Daybook
. 
Labels: Simple Woman's Daybook