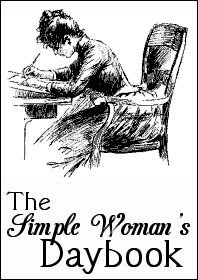 FOR TODAY, DECEMBER 14, 2011
(as usual, I didn't get this finished on time! maybe next week...)
Outside my window...
...sun just peeking over the horizon. It's chilly, but will be quite warm today, almost 70°F. And I really need to refill the bird feeders. We will need seed again this weekend.
I am thinking...
...that I will be glad when the parcels are on their way. I need to spend my lunch hour wrapping and boxing gifts. Thankfully only two of them need boxes; the others I can slip into padded envelopes. I love giving gifts, but this year I seem to be minutes behind everything, even though I got a head start on the decorating right after Thanksgiving! It has been very busy at work for December, so when I finish I have been tired. I still haven't put decorations up in the bathroom, and that takes something like fifteen minutes at most! Haven't finished a book yet this month, either.
I am thankful for...
...just a few gifts left for Christmas. Of course the few gifts that are left are the ones that I am puzzled about what to get!
From the learning rooms...
...I've learned I really need to slow the heck down and not do too much at once. But I never listen to myself. [Later: I didn't today, either.]
From the kitchen...
...nothing much, since we've finished the gingerbread. :-) I ordered six boxes of Dromedary from Amazon. Gingerbread so foolproof even I can make it: all you add is water!
I am wearing...
..."Mutts" pajama bottoms (Mooch and Earl play in the snow) and a green T-shirt because the matching top was gone when I bought the bottoms, and white socks.
I am creating...
...Well, I will be creating mounds of scrap paper this afternoon, I hope! Gift wrapping makes a tremendous mess.
I am going...
...to order more vegetable flakes. James has taken to putting them in our side dish (couscous, etc.) so I will get some veggies in my died besides salad vegetables.
I am reading...
...still working on
Pearl Harbor Christmas
and also
The Atheist's Guide to Christmas
. Plus on my Nook I'm reading an old novel called
The Life and Adventures of Santa Claus
. This is
not
the L. Frank Baum story, but a book from the 1920s where Nicholas, an orphan, starts bringing toys to children in his village from when he's a child. Only after he dies does he become the immortal St. Nicholas...Santa Claus.
I am hoping...
...to get some rest after the parcels go out. Although I still have to wrap gifts, that shouldn't be so rushed.
I am hearing...
...just the whirr of the fans right now. This is shaping up to be like the winter of 2001-2002, which was utterly miserable, 50s one day, 70s another. I wore shorts to decorate the Christmas tree, and the windows were open so often the tinsel got tangled from the breeze. Phooey.
Around the house...
...just the lamp on, Schuyler blinking sleepily. I think she's finally feeling better; she has been going through a humongous moult, like the one she has in the spring. When she's shedding feathers she is so listless. I kept giving her fruits and encouraging her to sleep, and now she's rarin' to go again. Willow is in the chair drowsing. Poor old dog, she gets stiffer daily.
I am pondering...
...friendship. And that sometimes it makes you melancholy.
One of my favorite things...
...discussing books! On my Christmas movies and music books we are having a delightful conversation about
A Christmas Carol
—how the clothing of Scrooge's youth is usually portrayed incorrectly in films, artificial candlelight in old movies, if Belle was Fezziwig's daughter, etc.
A few plans for the rest of the week:
Mailing the gifts. Also need to go with James to the doctor. We need to see what to do about the bone spur in his heel. It makes him twist his foot, which is twisting his knee and hip. He limped after me gamely at Greenfield Village, but really, it's getting harder for him to walk, and that just makes it worse.
Here is a picture for thought I am sharing...
While Charles Dickens could be wordy,
A Christmas Carol
is short, succinct, and classic. Everyone should read the book just once to experience his vivid descriptions, from the London markets at Christmastime to his eye-opening examples of the poverty of the time. There are many good film versions of
A Christmas Carol
, but the book, in its unabridged form, is a delightful experience. Try it! 
If you'd like to participate, check out
The Simple Woman's Daybook
. 
Labels: Simple Woman's Daybook