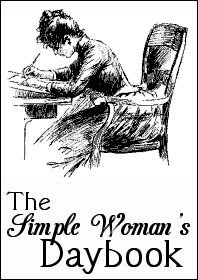 FOR TODAY, NOVEMBER 9, 2011Outside my window...
...it is light out! A rather watery light, as it is cloudy in preparation for rain later in the day, but it really seems morning as it never does in spring and fall when Daylight Saving is in effect. It is so much easier to rise when it's light out; you feel as if you ought to be awake and not as if you are forced that way.
I am thinking...
...it's time for Thanksgiving decoration. I toyed with doing it last weekend, but there was never time. I love Thanksgiving much more than I like Hallowe'en. It's a mellow holiday, one where people expect nothing but a good meal together and sports or parades watched in happy cameraderie around the television, or perhaps even games inside or out.
I am thankful for...
...the end of the year, with all the lovely holidays before us: Veterans Day to remember all who serve; Thanksgiving to be grateful for your blessings, Advent to prepare for Christmas, and Christmastide to enjoy friends and family.
From the learning rooms...
...reading
A Ball, a Dog, and a Monkey
about the beginning of the space race. Many details I did not know before, especially about the fate of Laika (that was not the dog's original name).
From the kitchen...
...dark and quiet right now. Perhaps later on I'll burn a candle. Coffee would be suitable today.
I am wearing...
...Mutts pajamas, socks and scuffs. [Here I was interrupted.]
I am creating...
...nothing right now! We are having a game night on Saturday, so I am going to be cleaning rather than creating.
I am going...
...to need a trip to JoAnn. A piece of a craft project is not in my possession and I could not find a similar product at Michaels. This weekend is their Veterans Day sale, so that should get me a nice discount.
I am reading...
...
A Ball, a Dog, and a Monkey
by Michael D'Antonio, as mentioned above,
The Greatest Show in the Galaxy
(essays on
Doctor Who
), and just finished
Murder on Lexington Avenue
by Victoria Thompson.
I am hoping...
...to find an inexpensive new flannel fitted sheet for the sofa. I use one as a seat cover. The one I have with the autumn leaves on it sadly has developed a worn spot and has torn.
I am hearing...
...well, since I'm late in finishing this,
Harry's Law
is on right now. We have to watch it, as we have two other things recording on the DVR,
Mythbusters
and
Law & Order: UK
.
Around the house...
...well, I did the Thanksgiving decorating during lunch. It didn't take very long—there's no tree to decorate or fussy bits to do, just put out Pilgrims, Indians, and about fifteen turkeys, including the cute turkey lamp I got at Cracker Barrel two years ago—and I was even able to go put out the mailbox wrap, Thanksgiving wreath, and Thanksgiving banner, and take a few minutes to use the pruning shears on the two bushes on either side of our St. Francis statue so that he is visible again. I have new batteries in the "electric" candles and they are "burning" within my sight. The coffee table needs to be cleaned off.
Again.
I am pondering...
...how to get the coffee table cleaned off by Saturday! It really is a problem: it's holding magazines, books, DVDs, remotes, coupons, my daybook, and catalogs! Nope, it's not that big, either...LOL.
One of my favorite things...
...
Reminisce
magazine! Received a bumper issue yesterday and have already read it cover to cover. There were many stories about the service, celebrating Veterans Day, and stories about being gathered around the table in honor of Thanksgiving, and the usual just plain fun nostalgic stories. I love this magazine.
A few plans for the rest of the week:
Gaaaaaame night! Knock on wood, the Spiveys, the Elders, the Boulers, and the Lawsons are coming. We're having turkey and stuffing, and Alice is bringing mashed potatoes and Sue vegetables, and we'll have a good feed and then commence to gaming (well, the ladies will...most of the time the guys just sit around "saving the world"). :-)
Here is a picture for thought I am sharing...
Memories are precious, no matter which era they are from. :-) 
If you'd like to participate, check out
The Simple Woman's Daybook
. 
Labels: Simple Woman's Daybook