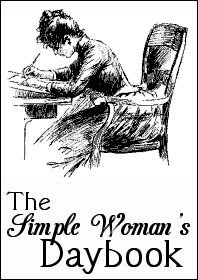 FOR TODAY, NOVEMBER 4, 2011
(yes, it's late)
Outside my window...
...nothing like yesterday, which was dark and still. Today the sun is peeking its way through fall-dappled leaves, and the wind is tossing the trees a good bit. The breeze is making the window shades in the bedroom slap against the window frame.
I am thinking...
...how, while we saw some great things (and even some beautiful things) on vacation, I simply could not relax and did not sleep well at all. It was very disappointing and very tiring. I had wanted to see the Henry Ford almost all my life, and I really enjoyed it, but parts of the trip were just a bust for me.
I am thankful for...
...getting to GO on vacation at least. We had a great time
doing
things: the AF museum, the space museum, seeing the artifacts and memorabilia at Henry Ford, seeing things like Edison's lab and the Wright Brothers' house and riding in a Model T, shopping at Bronner's, seeing Lake Erie (if however briefly) and the Ambassador Bridge, driving through the countryside, even traveling with the fids. Schuyler's such a good traveler for a small bird!
From the learning rooms...
...well, having been on vacation, I now want to read a good bio of Edison, and Henry Ford, and find out more about the Polar Bears [U.S. soldiers sent to Russia to fight Bolshevism after WWI]. I read about them briefly in another book.
Plus, after the Armstrong Museum, I want to watch
From the Earth to the Moon
again!
From the kitchen...
...blissfully quiet, thanks. I have a candle burning, Yankee's "Nature's Paintbrush," which an apple/fallish scent, but sorry to say the scent doesn't disperse as well as my other favorites, the coffee or the cinnamon.
I am wearing...
...my old Lassie sweatshirt Alice made for me, navy blue sweatpants, and scuffs over my socks. My feet are cold, but I can't put my slippers on. With the heat on, it makes static electricity, dangerous for the computer. I killed a computer mouse once with static electricity.
I am creating...
...purchase orders again. new fiscal year this time. :-) Nothing creative; all by the book as it should be.
I am going...
...to finish listening to "Paul Temple and the Spencer Affair" on BBC4X today...and, oooh, look, they have the second series of "Tomorrow, Today!" airing!
I am reading...
A Red Herring Without Mustard: A Flavia De Luce Mystery
by Alan Bradley, featuring precocious 11-year-old Flavia, a chemistry devotee living in a crumbling old British country house with her widower father and her two bullying older sister. Also
A Ball, A Dog, and a Monkey
, about the early days of the space program.
I am hoping...
...to get to JoAnn this weekend. I am missing the part I need for a birthday project.
I am hearing...
...the hum of the furnace and the tap-tap-tapping of the window shades driven by the wind.
Around the house...
...pretty quiet except for the furnace. In a few minutes I'll turn on a podcast; I'm way behind again in my "Tech Guy" and "TWiT" broadcasts. This weekend we need to pull out dead electronics, to prep them for next weekend. My original laptop is completely dead, and has been sitting in the closet since we moved in; we're going to remove the hard drive and see if we can get anything off it, and junk the rest.
Oh, and we can donate that awful old Kirby now!
I am pondering...
...Christmas without Borders. I know, it's silly. It's gone. But I found an unexpected "gift" from Borders the other day: I looked into the Hallmark bag we got at the ornament premiere back in July, and at the bottom discovered the July British "Country Living" we had bought at the East Cobb Borders the same day. I was so frazzled during end of fiscal year that I didn't even realize I had bought it and didn't read it! We'd go to Borders a lot during Christmas: survey the new stock, buy gift cards, relax in the cafe and have a wonderful "Cocoa Trio." Bother. All gone.
One of my favorite things...
...the ongoing season. I love the fall; it's like I come alive again after hibernating in misery all summer in air conditioned enclosures. There's air you can breathe, cool air that doesn't make you break into a sweat the moment you twitch a limb, beautiful colors, festivals to attend, delicious foods back to the fore, Christmas to look forward to, and lovely Thanksgiving. Couldn't care less about Hallowe'en; I decorate for form's sake, not my own.
A few plans for the rest of the week:
BJs for a stockup tour, the last of three (or is it two?) Farmers Markets. I really should put up the Thanksgiving stuff!
Here is a picture for thought I am sharing...
Look at this lovely fall pathway! Wouldn't you just love to walk in this beauty, packing a sandwich and some fruit, to sit under a tree and eat, perhaps discover a little place for coffee around the corner and sit near a window sipping cocoa? Bliss!
If you'd like to participate, check out
The Simple Woman's Daybook
.