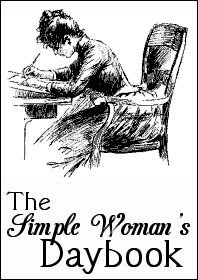 FOR TODAY, NOVEMBER 25, 2011Outside my window...
...the world is bathed in darkness. It's been a busy week and I've finally had a chance to sit down to do this.
I am thinking...
...that it will be nice to get some sleep! I was up at five this morning to "do" Black Friday. No, I didn't go to the mall or any of the big stores, just Office Max and Depot, World Market, JoAnn and Michaels.
I am thankful for...
...everything: life, love, family, friends, animals, plants, fiction, reality—why limit thankfulness? Be thankful for waking, and sleeping, sunrise and sunset, the earth and the sea, the ground and the sky, and the lovely, lovely stars.
(Okay. I am
not
thankful for summer.)
From the learning rooms...
...I just finished reading Sarah Vowell's
The Wordy Shipmates
. I didn't really enjoy her snark, but there were many interesting facts about Roger Williams and Anne Hutchinson, which we never learned in history class. Coming from the
home
of Roger Williams and Anne Hutchinson, this is rather neglectful.
From the kitchen...
...well, it needs to be cleaned...LOL. We ate out tonight as we always do on Fridays.
I am wearing...
...my ratty old Lassie sweatshirt and blue sweatpants and white socks. It's a bit warm even for that.
I am creating...
...order in my craft room. Pretty much just shoved extraneous junk into my assembled "Chopper Hopper" for now so I could move around in the room and clean off my drafting table.
I am going...
...to relax some tonight. It was a long haul this morning, and I didn't even go anywhere busy!
I am reading...
...
A Pocketful of History
, the stories behind the images on the state quarters. Pretty cool.
I am hoping...
...to do some business with small businesses tomorrow. It is Small Business Saturday. Not many small businesses around here, though, to buy things we actually are interested in.
I am hearing...
...
Flying Wild Alaska
! It's an episode about the Iditarod.
Around the house...
...we're winding down for the evening. Schuyler is singing us a song and Willow is asleep on her dog bed.
I am pondering...
...how quickly the month has gone by! I still have gifts to put together, Christmas cards to write—and decorations to put up! Where does all the time go?
One of my favorite things...
I'm watching it on television:
Flying Wild Alaska
. If I were younger, healthier, and stronger (and if there was proper storage for the books), I'd be up there in a minute.
A few plans for the rest of the week:
Sadly, I'm writing this so late there's not much of it left. A trip to the hobby shop for sure. :-) And Hallmark to get the next Peanuts jazz band member.
Here is a picture for thought I am sharing...
This photo of
Alaska
is courtesy of TripAdvisor
We have a lovely planet and need to keep it this way. No one's telling you not to "live." But try not to
waste
. 
If you'd like to participate, check out
The Simple Woman's Daybook
.