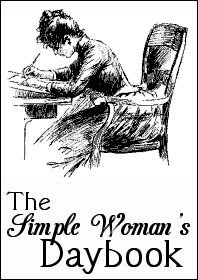 FOR TODAY, NOVEMBER 18, 2011
(yes, late again, but Wednesday was very busy at work)
Outside my window...
...sunny and delightful—it's only 53°F right now! Sadly, it will be into the 70s again on Monday and Tuesday. [sticks out tongue] Florida needs to keep its wretched warm air where it belongs. Wild birdies at the feeder. Much fewer autumn leaves on the trees than there were Wednesday; we had a terrible storm blow through...tornadoes north of us...a sky that looked like the hounds of Hell were coming...wind, rain, some thunder, tornado sirens shrieking. It was not a good day.
I am thinking...
...I'm glad to have a chore finished. I finally have placed the savings bonds in our safe deposit box. We've only had the box for...well, it's been awhile. I was going to cash out the matured bonds, but the teller says they are still earning interest, so I will hold them until I need them. It's not like I have a fortune in them, but I may need even that paltry sum someday.
I am thankful for...
...all the good things: James, Schuyler, Willow, friends, relatives, nice co-workers, cooler weather, favorite television programs, autumn leaves, our past vacation, my car, books, cross-stitch, the Christmas music I have on right now...
From the learning rooms...
...reading the young people's version (which is not all that dumbed down, but more condensed) of Nathaniel Philbrick's
Mayflower
,
Mayflower and the Pilgrims' New World
(appropriate before-Thanksgiving reading). Did you know the Separatists (what the "Pilgrims" called themselves) were not married in religious ceremonies, only civil ones? Or that, while Franklin Roosevelt's mother's family did not come over on the
Mayflower
, they did come over on the very next ship?
From the kitchen...
...quiet. Just had a nice Granny Smith apple. I hadn't even sat down with it before Schuyler was cheeping frantically: "Apple! Apple! Give the birdie some apple!"
I am wearing...
...my autumn chickadee shirt and the tobacco-colored "Amanda" jeans from Gloria Vanderbilt, and my black leather Reeboks. I didn't change when I got home from my errands (bank, Office Max, Lowes, Dollar Tree, Wally World), just commenced to having goat cheese and crackers for lunch and then dubbing off a couple of
Castle
eps.
I am creating...
...a bird cross-stitch. I was tired of it sitting on the coffee table. Was working on it last night while watching the rest of this season's
History Detectives
(which I had to watch online) and today during
Castle
.
I am going...
...to drop off some things at Goodwill this weekend. Why on earth we are keeping an 11-year-old DVD player and two 13-year-old digital cameras we haven't used in years I'll never know. Oh, and that boat anchor Kirby's about to get the boot out the door, too.
I am reading...
...besides the Philbrick book,
Acceptable Loss
by Anne Perry, which I had on reserve at the library. Luckily I checked online, because they never called to tell me it was in, and Sibley is closed today because of budget cuts. (Cut politicians' salaries, not library hours!) Oh, and I still haven't finished
Boneshaker
yet.
I am hoping...
...to get more rubbish out of the house by the end of the year. It's really silly to keep these old things.
I am hearing...
...Christmas music—Dish's Traditional Holiday channel. Not bad. Their other channel has modern stuff on, like N'Sync and newer. Not my cup of tea.
Around the house...
...I need to put away the useful things I bought today: coin rollers, Christmas labels, bookends, a couple more strings of Christmas lights, blue lights for the candles. I have to try out the battery candle. Last year I bought one from Lowes and then a pair elsewhere. I tossed the two posthaste in the donate box: they are that ugly "cold" white LED light that looks so awful. The Lowes candles have a yellow glow and flicker like a real candle. These have a special feature I like: you decide when you want them to turn on—say, 5 p.m. You put the batteries in exactly at that time. The candle comes on and burns for six hours, then shuts off and thereafter comes on at 5 p.m. until you take the batteries out again. So you can put them in the window the first day you start decorating and just leave them there until Christmas is over.
I am pondering...
...candles in the bedroom windows for Christmas. :-) I was only going to buy them for the living room windows. The front windows have Mother's five-candle candoliers in them, and the rear have the color changing single candles; downstairs has our three-candle units.
One of my favorite things...
...I'm listening to it: Christmas music. When things get bleakest in summer it even helps to put it on then. Usually I choose instrumental for summer; it isn't so obvious, and, played low, no one knows the difference.
A few plans for the rest of the week:
Hair Day. The last Farmer's Market.
Here is a picture for thought I am sharing...
Such a little thing, but so bright and cheerful. Love and friendship is like a little candle in the darkness.
If you'd like to participate, check out
The Simple Woman's Daybook
. 
Labels: Simple Woman's Daybook