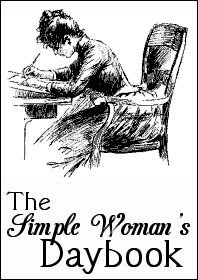 FOR TODAY, OCTOBER 5, 2011Outside my window...
...it's dusk. It's the kind of light where it's still bright enough to see, but you squint at the same time because there's not
quite
enough light to see by. The little birds at the feeder who were crowding around earlier are gone, although I can hear a persistent chirp from the trees.
I am thinking...
...it was much nicer earlier in the week when it was cooler. It won't satisfy me until its in the 50s.
I am thankful for...
...it's too silly, but I really am thankful for my new vacuum cleaner! Today I was able to vacuum downstairs without needing James to lug the monster Kirby downstairs. The little guy pivots me into small places without struggling.
From the learning rooms...
...just finished
A City So Grand
about Boston 1850-1900. Very enjoyable!
From the kitchen...
...it was potlucks tonight. I had chicken broth with rice. Yum!
I am wearing...
...since it's gotten warm again, the blue tank top and the aqua shorts.
I am creating...
...nothing right now, but I need to finish that birthday gift before Saturday. :-)
I am going...
...to watch
something
on television tonight. We are just getting slammed right now!
I am reading...
...
Boneshaker
by Cherie Priest,
Mr. Monk on the Road
by Lee Goldberg, and
A History of the World in 6 Glasses
by Tom Standage.
I am hoping...
...it will be cloudy on Sunday. We are going to be walking around outside and neither of us can tolerate the sun very well.
I am hearing...
...
Jeopardy
, and James trying to update his GPS unit.
Around the house...
...Willow is lying at my feet, Schuyler is munching on some seed, James is muttering over the GPS, Alex Trebek is asking questions. All the windows are open, the fans are on high, and I can
still
hear the crickets. :-)
I am pondering...
...when to get the oil in the car changed. Not very deep thoughts! After all those trips to Tucker during end-of-fiscal-year, Twi certainly needs and deserves it!
One of my favorite things...
...
Hawaii Five-O
—which I think I'm going to go watch.
A few plans for the rest of the week:
Work picnic and 18th birthday party! 
If you'd like to participate, check out
The Simple Woman's Daybook
. 
Labels: Simple Woman's Daybook