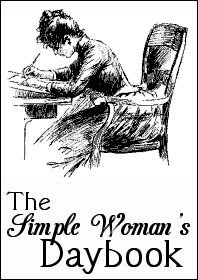 FOR TODAY, OCTOBER 19Outside my window...
...it is still pitch black. We had a cold front come through last night (although you couldn't have told it by 2:30 a.m., when it was warm and still, and even with three fans in the room it was too warm to sleep). But it was cooler this morning, and with the trees moving and rustling like they are, I'm sure I'll have to shut the windows soon. [8:25 a.m. Yes, indeed, I did.]
I am thinking...
...about being a little nervous today. I have to go for a mammogram at 10:30. There's always something sinister about a mammo, because a problem you didn't know about might be lurking there, but I have never had a problem with the procedure itself. I have read stories about women who don't want to go because it's terribly painful. I have always found it a brief discomfort, nothing more, but last year when I had mine, the technician had to get very close to me to adjust the machine and I had an unexpected attack of claustrophobia. She released me from the apparatus immediately and let me take a breath, and I finished with no problem, but it preys on my mind.
[Later: I had no problem. Kept my eyes over the machine and stared at the wall ("close your eyes and think of England?").]
I am thankful for...
...cooler weather, although the last few days of 80s have not been bad. 80s in the fall are different from 80s in the summer; it's a "softer" heat which doesn't hurt your skin.
From the learning rooms...
Just bought what sounds like a fascinating book:
Words to Eat By: Five Foods and the Culinary History of the English Language
. Lynn Rosetto Casper of
The Splendid Table
was talking to the author on a recent show.
From the kitchen...
...all dark and quiet, and will be, as tonight is "pot lucks."
I am wearing...
...same thing I was wearing last week, as it's been so warm I haven't worn them since last week.
I am creating...
...just this blog. On a brief hiatus, although I have a couple of more projects to work on before Christmas. I discovered I had the wrong color of a craft component and need to go to JoAnn, since Michaels apparently sells little of that item.
I am going...
...to suggest to James we have a "work day" the first weekend of November, unless he has to work. We still need to put the shelf up in the kitchen, the one that will go over the baker's rack and hold the items we use rarely: the stock pot, the small crock pot, and a few other cooking things. They are just jammed together on the baking rack now and it's awkward.
I am reading...
...
The Greatest Show in the Galaxy
(a series of essays about
Doctor Who
),
A History of the World in 6 Glasses
(I seem to hit this only intermittently; I'm on the tea chapter now), and am about halfway through Cherie Priest's
Boneshaker
.
I am hoping...
...things will go well during my appointment (both during and afterward).
I am hearing...
...the television in the background for Schuyler. Something on the
Today
show. The door to the bedroom was squeaking earlier; I had to close it so she wouldn't get a draft.
Around the house...
...all very quiet. You can hear the faint pattering of rain outside, but it's not intrusive. The other rooms are dark, and beckon you to come nap. I must work instead!
I am pondering...
...the news has me pondering the questions of why people do what they do. Mentally disabled adults are kept captive in squalor while people steal their benefits. A woman gets drunk while her baby is kidnapped. And more people hurting others. Why must this happen?
One of my favorite things...
...Susan Branch @ (what else?) www.susanbranch.com! I love her homespun drawings and lettering. I have both of her Christmas books and was overjoyed when she put out one for autumn. One of the things in the dining room is a framed Susan Branch postcard with the legend "a season of love and laughter" with an autumn-themed table set below, and as a caption the lovely Humbert Wolfe quote: "Listen! The wind is rising, and the air is wild with leaves, We have had our summer evenings, now for October eves!" Yes, indeed!
A few plans for the rest of the week:
I'm due to give Willow a bath, and I think I will put the Hallowe'en decorations up tomorrow during lunch. I'm not much of a Hallowe'en fan, but it should be nice and cool tomorrow as well—the forecast is 50s and windy—to do the job. The weather is so freaky here it might be 80 again by the weekend!
Here is a picture for thought I am sharing...
As it gets closer to Christmas, I long for Christmas-y places to visit. Here's someplace I want to see someday, Bronner's Christmas Wonderland, the world's largest Christmas store:
If you'd like to participate, check out
The Simple Woman's Daybook
. 
Labels: Simple Woman's Daybook