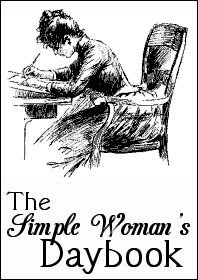 FOR TODAY, OCTOBER 12, 2011 (the real COLUMBUS DAY)Outside my window...
...still quite dark because it is overcast; even the birds aren't at the feeder. It's supposed to clear up later and go up into the 70s. I like the idea of the former, but not of the latter. :-) Staying 60s would make me very happy.
I am thinking...
...not yet, not yet. Once I have breakfast and start work. :-)
I am thankful for...
...not having expected company last night (we are getting quotes on a home project). It took me 75 minutes to get home in the rain and I arrived home stiff and with a headache. It was nice to eat and relax, and not have to talk business. I suppose I misheard and they are coming tonight.
From the learning rooms...
...LOL! I will learn to listen to telephone messages better!
From the kitchen...
...James cleaned it yesterday, so it is quite spic and span except for the floor, which I need to wash. If this inquires about treats, we have the apple pie we got at Panorama orchards, which is still a bit too sweet for me. I've never had a high tolerance for sugar: I don't like frosting (icing, whatever...I call it "ick"), Danish, Cinnabons with the ick on them, even raisins are too sweet for me. Bittersweet chocolate is my speed.
I am wearing...
...my Mutts "jammies" which are fall wearing on telework days. The top is pale blue with hearts on it and a big picture of Earl, the little terrier in the comic strip, with dark blue sleeves. The pants are dark blue with stars, "sweet dreams," and Mooch [the cat] and Earl on a bed.
I am creating...
...order! I need to do more sorting and disposing on Friday. I'm keeping the
Early American Life
,
Best of British
, and, right now,
Yankee
issues, but I need to take the other magazines and just get the useful stuff out of them. Why have year old computer reviews? I just need the links to useful software from
PC World
. I just want the fall and winter photos from
Country
and
Country Extra
and
Vermont Life
and
Midwest Living
, etc.
I am going...
...to take the car to the mechanic in a few minutes. I need an oil change, a tune up, and I need to get it inspected. They will give me a ride back home.
I am reading...
...
Boneshaker
by Cherie Priest,
Mr. Monk on the Road
by Lee Goldberg, and
A History of the World in 6 Glasses
by Tom Standage,
and
, because it called my name,
A Rather Curious Engagement
by C.A. Belmond.
I am hoping...
...to continue on my decluttering streak. It's helping me work out some personal frustrations.
I am hearing...
...birds chipping from outside the window. And the wonderful silence that goes with no A/C being on. The ceiling fans humming.
Around the house...
It's all vacuumed! Looking up at my bookshelf over the computer, it needs to be cleaned out. I just, just realized where my IRIS Pen software is, after making such a fuss and having to get it from the manufacturer. It's up there, over the computer, hidden by another book. Bother. Some of these books, too, have to go.
I am pondering...
...a conversation last week which troubled me, and the sharp, sad realization that I can't stop things that trouble me from occurring.
One of my favorite things...
...a radio show and podcast called
A Way With Words
. Grant Barrett and Martha Barnette discuss grammar, punctuation, sayings, proverbs, dialect, idioms, and more. It's always funny and lively. I plan to play an episode or two today.
A few plans for the rest of the week:
Tidying. The Mistletoe Market (though God knows why it takes place so
early
. The Cobb County Library Book Sale. (I know, like I need more books!)
Here is a picture for thought I am sharing...
Our former neighbor Susan posted this on Facebook...so beautiful! Fall is such a lovely season!
If you'd like to participate, check out
The Simple Woman's Daybook
. 
Labels: Simple Woman's Daybook