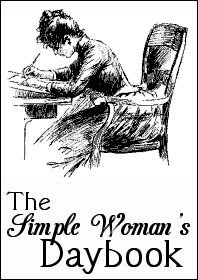 FOR TODAY, SEPTEMBER 22, 2011Outside my window...
...nothing, I'm afraid. It's pitch dark. I can't even see the lighted window of the mobile home in the trailer park behind us.
I am thinking...
...of all the grand plans I had for today! I wasn't going to hit the snooze alarm, I was going to get up, run the vacuum quickly, do this, and then start work. But I was up at 3 a.m. feeling sick; I did not get back to bed until 4:30 and then could not fall asleep because I was so cold, even thought I had my slippers on and a throw over me in the bathroom. I had to take sick leave this morning so I could get more than three hours sleep; I had such a headache when I got up!
I am thankful for...
...a modification I needed to do came through quickly, and with no fuss.
From the learning rooms...
...I guess I'll learn something tomorrow, as I got an unexpected e-mail message this morning that rather depressed me. I haven't had this happen before and will need some advice on what to do about it.
From the kitchen...
...James grilled chicken marinated in a tomato sauce on the grill, and we had mushroom rice on the side, and half a square of fudge for dessert.
I am wearing...
...blue tank top and aqua shorts, and pale blue scuffs. Can't wait till it gets cold and I can be cozy in my sweats.
I am creating...
...a few more birthday gifts. The first was given to Aubrey Spivey at her party last Saturday (her birthday, her 18th, was actually today).
I am going...
...to bed in a few minutes. I'm still pretty tired. I do wish I'd been able to work on this this morning.
I am reading...
...
Lessons from the Mountain
by Mary McDonough and
Mr. Monk on the Road
by Lee Goldberg, plus
Vintage Notions
as a bedtime book. It's so quiet and soothing.
I am hoping...
...for cooler weather! We've had the A/C off, then had to turn it back on, then turned it off again, then had to turn it on again. The deciding factor is less the temperature in the daytime than the temperature at night, as neither of us can sleep when it's too warm. All the doctors' advice talks about cool temps being essential for good sleep.
I am hearing...
...the news. As always, depressing.
Around the house...
...Schuyler just had her cage cleaned and is looking grumpy. Willow is lying next to James, who is reading a few final things on his computer. The coffee table looks like a paper factory threw up on it! There are magazines, at least two books, my "commonplace book," coupons, and more...
One of my favorite things...
...had a shocker ending tonight:
Law & Order: UK.
Is Jamie Bamber leaving the series?
A few plans for the rest of the week:
When I cut out the coupons, I discovered a whole bunch more JoAnn coupons. Hmmn. Time for more tape? I do need some small beads for another birthday project.
Here is a picture for thought I am sharing...
A favorite book at this time of year:
Don't you just love
Susan Branch's lovely drawings
? 
If you'd like to participate, check out
The Simple Woman's Daybook
. 
Labels: Simple Woman's Daybook