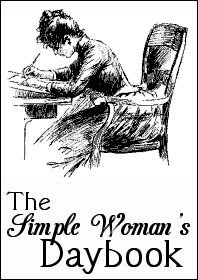 FOR TODAY, AUGUST 4, 2011Outside my window...
...starting to clear up, finally. It was almost record temps here yesterday (98°F) and sometime during the night we had a spectacular thunder and lighting storm. The thunder was almost continuous, and the lightning the same; instead of regular rumbles and flashes, it was a swiftly-repeated series of rumbles and sheet lightning for quite some time. We did get a soaking rain, as well, but I don't see any damage locally. I did lay awake some time listening to it. I used to love thunderstorms as a child, but living in the South has brought me a whole new—and not very friendly—perspective on them.
I am thinking...
...how much work I have left to do in the last eight weeks of end-of-fiscal-year. Because Congress approved our budget late, we got a flood of purchase order requests in just at the deadline. I feel like I did last year when we had all the Recovery Act funds, drowning and no way to swim to shore.
I am thankful for...
...a supportive team leader and an even more supportive supervisor. My supervisor views being supportive as part of his job. I know people have superiors who aren't. I once worked for a man who was mild-mannered and sweet, but he never supported his employees against the other supervisors, and things were sometimes hard for us. It is a blessing to have supportive supervisory staff.
From the learning rooms...
...no time, no time...I feel like the White Rabbit..."I'm late, I'm late!" and will never be caught up.
From the kitchen...
...a leftover pork chop, which I am eating for lunch. :-)
I am wearing...
...something cool! Black tank top and shorts, blue scuffs. You know it is too warm when wearing a short-sleeved shirt and a light pair of pants with socks and shoes is "too much clothes." I dream of sweatshirt weather.
I am creating...
...advertisements for purchase orders. Questions about purchase orders. Forms for purchase orders. :-)
I am going...
...to take my temperature in a little while. It was very odd; I was a bit headachy when I got home yesterday, but not surprising as fluorescent lights bother me, but I felt off enough to take my temperature. Turns out I had a very low-grade fever. Possibly from the heat. I haven't had fevers in years, but since I got one last summer it seems like my body is amenable to them again. I feel like heat is radiating off me in waves, although it is a comfortable 75 inside with a ceiling fan on, and only 83 outside, the coolest it's been at this time of day for weeks!
I am reading...
...still working on
The Wilderness Warrior
(it's a large and detailed tome),
The History of the World in 6 Glasses
, the latest Harry Dresden book in paperback,
Changes
, and a steampunk/supernatural novel called
The Native Star
.
I am hoping...
All I am hoping for is fall. What can you say about a season like summer where all you want to do is lie under a ceiling fan in a cool room and sleep? I love fall and winter and early spring when I have energy and want to do things!
I am hearing...
...the soft hum of the computer, the dog snuffling around under my desk hoping for something to eat, the bird scratching about in her cage. The A/C isn't even on, which is odd at this time of the afternoon in the summer.
Around the house...
...the laundry is going. I managed to vacuum the upstairs carpet before it was time to start work this morning.
One of my favorite things...
...free e-book sites! One of my favorites has always been www.munseys.com, which used to be Black Mask. Many classic books, older novels, and even old series books there. www.gutenberg.org is also good, and, if you have a Nook, Barnes & Noble gives away a free e-book every Friday on their Nook blog.
A few plans for the rest of the week:
Sleep. More narrow DVD cases. Sleep. Fresh veggies. Sleep.
Wait. I'm sensing a pattern here...
Here is a picture for thought I am sharing...
Happy memories from this series!
How can you identify a
McMillan and Wife
fan? Three words: Apple crumb cake! :-) 
If you'd like to participate, check out
The Simple Woman's Daybook
. 
Labels: Simple Woman's Daybook