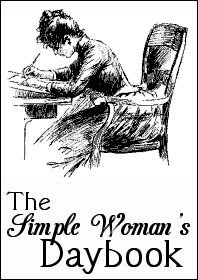 FOR TODAY, AUGUST 25, 2011
Outside my window...
...shade, finally, on the deck, and the birds darting at the feeder and quarreling amongst themselves. It's been another 90+°F day, with no relief in sight. I have applique banners I hang from the front porch, and usually try to keep them two years, although the second year they look faded. The summer one, two years old, is just about dead. The sun has cooked the material so badly that it's starting to shred. Good thing I will be taking it down soon.
I am thinking...
...it was funny; I joined everyone else online in mourning the death of Elisabeth Sladen, who played Sarah Jane Smith on
Doctor Who
a few months ago. But it didn't strike me until I was pulling out the disk for season 2 of
The Sarah Jane Adventures
that she will never be in anything else again. I hear she was a sweet lady, unselfish, not a diva. And it's such a shame.
I am thankful for...
...one of the other branches at work, who swooped in and took nine more purchase orders from me and ten from Tamera. Of course I gave away all the easy ones and now have to cope with the hard ones that I'm left with. That's life, I guess!
From the learning rooms...
...I'm reading a biography of Robert Heinlein, who went to the Naval Academy at Annapolis as a young man. I'm enjoying reading about the (then?) daily routine there, what the young men studied, and the hazing that was allowed.
From the kitchen...
...James got home early, so he cooked dinner tonight: turkey thighs marinated in Island Soyaki (Trader Joe's) with teriyaki rice. I'd had a tiny lunch and it was a small thigh; I was planning to save some for a sandwich Sunday, but ate it all up.
I am wearing...
...blue tank top and aqua shorts. Discovered last night I will need to replace the tank top at least. The material appears to be wearing out. Of course these are $3 tops from Walmart; not much to them.
I am creating...
...right now, more purchase orders! Looked at the calendar and realized with horror that there's a craft project I need to be working on. Maybe Sunday.
I am going...
...to keep nagging the Dragon*Con people until they put that schedule up. Really, it gets later and later every year.
I am reading...
...
Harry Potter and History
,
Robert A. Heinlein: In Dialogue With His Century
, Volume 1,
Rick Steves' London 2011
, and Rhys Bowen's
The Last Illusion
.
I am hoping...
...this year's registration line at Dragon*Con will not be such a nightmare. 3 1/2 hours is just ridiculous. The most popular topic on the Dragon*Con Facebook discussion page is fixing registration!
I am hearing...
...
Jeopardy
. And James heavy breathing, since he's fallen asleep in his chair. The old saying's right: you do grow up to be your parents. Here I am watching TV while doing something like my mom, and James is asleep like Dad.
Around the house...
...I did manage to vacuum at lunch and sweep out the bathrooms, and the laundry is done. I rescued a spider and took it outside. The trash is collected from the bedrooms in preparation to go out tonight. And there are still books everywhere.
One of my favorite things...
...clouds. I wish more of them would show up. I'm tired of the relentless sun. Of course, I admit the low humidity has been nice this week. Both Monday and Wednesday, although it was hot in the sun, it was actually cool under the trees and there was a breeze. Your usual Georgia summer day is breathless, even in the shade.
A few plans for the rest of the week:
Work. Not sure about Saturday plans yet, although we might have something in mind. James works Sunday. So I do need to work on that craft project.
Here is a thought I am sharing...
The usual in August:
THINK FALL!
If you'd like to participate, check out
The Simple Woman's Daybook
. 
Labels: Simple Woman's Daybook