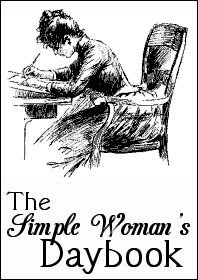 FOR TODAY, AUGUST 19, 2011
Outside my window...
...the sun is shining and there are birds fluttering around the bird feeder. It's very hot out, though; 91°F and no relief in sight, despite last week's forecast. :-(
I am thinking...
...how relieved I am to have a day off from work! Really, yesterday I was so angry I had to step away from the computer because I was about to explode.
I am thankful for...
...a chance to sleep late, and a quiet morning. I took my car to "the spa"—got it washed and vacuumed out completely (even the back), then stopped at Walmart for hangers for my new pants and some diabetic socks for James. Found two books for a dollar each: the young adult version of Nathaniel Philbrick's
Mayflower
and an adventure novel based on the movie
National Treasure
.
From the learning rooms...
...I'm reading a history of department stores. Did you know it was women's "ready to wear" clothing that transformed the department store? In the late 19th century menswear was ready-to-wear, but the women's departments, except for items like coats, "unmentionables," hosiery, and handkerchiefs, was represented by fabric, sewing supplies, ribbons, and lace. Rich and middle-class women had dressmakers make their clothes, poor women made their own (and generally did not shop in department stores).
From the kitchen...
...I had some ricotta and crackers for lunch. I'm ready for supper!
I am wearing...
...a tank top and shorts and socks. I saw the cutest little Eeyore sleep shirt today, but didn't buy it.
I am creating...
...this blog...and that's about it. :-)
I am going...
...to take a turn around Borders tonight. It's like going to a funeral, but I'm always on the lookout for gifts to put away.
I am reading...
...Heinlein's
Number of the Beast
(which is bearable until good ol' Woody shows up),
Harry Potter and History
, and
Service and Style
(the department store book). The latter rather skipped the queue, as I got it yesterday, along with a book about the history of the alphabet
(Letter Perfect)
and about the history portrayed on the back of the state quarters.
I am hoping...
...for smoother waters ahead at work. Ed and Nancy always tell me to come to them when I run into problems. (I have
superb
supervisors.) But really, I shouldn't have to call on them for piddling problems like this. And they are busy, too!!!
I am hearing...
...Rachael Ray...it's a show from May where Dick Van Dyke was the guest—and out walked Mary Tyler Moore! Schuyler is enjoying it, as she is singing at the top of her little birdie lungs.
Around the house...
...I've tidied up a little. And thank God the laundry was finished yesterday! Still books everywhere.
One of my favorite things...
...going to bookstores, so since James has just arrived home, I think I will do so!
A few plans for the rest of the week:
I need to buy a couple of pillowcases. And some "Soup in Hand" vegetable soup. Even Walmart doesn't have it; I always have to go to Food Lion. [Later: They didn't have it, either. They don't even have a ROW for it at the moment. ::gnash::]
Here is a picture for thought I am sharing...
Summer sucks! THINK FALL!  
If you'd like to participate, check out
The Simple Woman's Daybook
. 
Labels: Simple Woman's Daybook