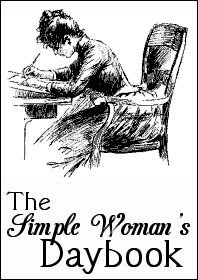 FOR TODAY, AUGUST 11, 2011
Outside my window...
...finally pitch dark. I'm glad the time is turning and it's getting darker earlier each night. I wish we didn't have Daylight Savings time. Light is for mornings, and dark for evenings. I hate rising and going to work in the dark! The only benefit of it is seeing some lovely sunrises.
I am thinking...
...of the seven more weeks to go. I know! it's monotonous hearing about it, but end-of-fiscal-year is a fact of life at this time of year. It absorbs all my days and my thoughts. Sometimes I dream about it.
I am thankful for...
...a husband who cooks! I'd be eating out of cans if I were all alone. I hate to cook!
From the learning rooms...
...well, I'm reading a Bryant and May book, which means I usually learn something obscure. This one is talking about the dying out of the traditional British pub.
From the kitchen...
...it's empty now. James made pork chops for dinner, with some noodles on the side, and watermelon for dessert.
I am wearing...
...blue tank top, aqua shorts. Not much variety in this question!
I am creating...
...LOL...purchase orders! Well, right now I'm creating a blog.
I am going...
...to clean out Schuyler's cage in a few minutes because tomorrow is trash collection day. She hates when "housekeeping" comes in, but instead paces back and forth on her highest perches, glaring at me.
I am reading...
...
The Victoria Vanishes
by Christopher Fowler,
Rick Steves' London
, a small book called
Arctic Autumn
, and a steampunk-ish fantasy/Western called
The Native Star
.
I am hoping...
...to get a good amount of work done tomorrow, so I'll cross fingers. I found about a dozen orders I could do, and I'm slowly working my way through them. Trouble is, I still have three times that many to print out! And other orders to work on. Juggling angels on the head of a pin again...
I am hearing...
...Rock Hudson talking. We're watching the last disk of the first season of
McMillan and Wife
. We've already watched the spooky episode with "the house in the bag" (someone tries to kill Mac and Sally by trapping them in their house, which is being fumigated). It was an unusually creepy episode for this series. And, even sweeter a sound, Schuyler is singing a pretty budgie song.
Around the house...
...a cozy evening. James is sitting in his chair and Willow is asleep at his feet. Skye's cage is on the tray at the end of the sofa and I'm at the other end. Very soon it will be bedtime.
One of my favorite things...
John Schuck playing Sergeant Enright on
McMillan and Wife
! He was one of my favorite parts of this series. Randy Disher with a lot more brains. :-)
A few plans for the rest of the week:
I can't mention it now. :-) Maybe after the weekend is over.
Here is a picture for thought I am sharing...
There's no time for this part this evening. The story's ending, the evening's coming to a close. Tomorrow a new story will begin...  
If you'd like to participate, check out
The Simple Woman's Daybook
. 
Labels: Simple Woman's Daybook