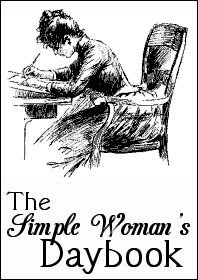 FOR TODAY, JULY 27, 2011Outside my window...
...bright sun, as for something different, I am writing at lunchtime. Birds fluttering from feeder to feeder.
I am thinking...
...that it's nice to stop for lunch for a change! It seems I always have something to do: laundry, errands, a lie-down from a sinus headache, or I work through lunch to get finished early.
I am thankful for...
...as in last week, air conditioning! We had a couple of days of 80s and now it's headed up into the 90s again. I feel unbelievably claustrophobic in the summer because I can't tolerate the heat. Always boxed in. Had to run outside earlier to open the gate for the exterminator—already stuffy!
From the learning rooms...
...just finished
Into That Silent Sea
, a book about the early days of the space program. Most of the books I have of this type concentrate on the American Mercury program; nearly half this book examines the Russian Vostok space flights, with long stories about Yuri Gagarin, Valentina Tereshkova, etc. Excellent.
From the kitchen...
...just had a leftover pork chop while watching Rick Steves. Nothing remarkable about it, just a nice plain grilled chop.
I am wearing...
...gosh, don't you get tired of asking? Blue tank top, aqua shorts, and terry cloth scuffs.
I am creating...
...advertisements! Really, I have a whole pile of them to do today!
I am going...
...to keep plugging at this till James gets home (and if he gets home early, until 5 p.m.) You would not believe how many orders I have! (No, if you read this blog regularly in the summer...you would! LOL.)
I am reading...
...just got Alice Ozma's
The Reading Promise
from the library. Still working on
The Wilderness Warrior
and
A Discovery of Witches
, and the new
Woman's Day
just turned up in my Nook. Wow, didn't realize it was time for another already.
I have already decided that since Borders is going bye-bye I am finally going to subscribe to
Yankee
and
Early American Life
. I buy every issue, so in the long run it will save me money.
I am hoping...
...that my neck will feel even better tomorrow. I was home yesterday feeling useless with my neck knotted up again. I didn't mind having a stiff neck, but the sharp pain any time I turned my head or tilted it back was quite daunting. I tried going into work, and got about three miles before I realized I could not drive safely because I was unable to move my head properly. Today it is just stiff; while it hurts when I turn it, I don't get the sharp pain, or the pain in my temple when I put on my glasses. Arthritis is a right pain in the...well, you get it.
I am hearing...
...watching an OLD Julia Child show on the Cooking channel.
Around the house...
...air conditioner's on, ceiling fan on high overhead, I have a dirty dish, fork, and knife to put up, behind me Schuyler is gnawing on something, and Willow is lying on her dog blanket and grooming herself.
One of my favorite things...
...Rick Steves! Just downloaded a bunch of his "Travels" radio series. I like listening to them on the way home from work. He goes to the best places! How I'd love to see the British Museum and the Book of Kells! Today, however, on television, he was in Venice, which is funny since we're in the middle of watching the
Zen
mysteries on
Masterpiece Mystery
. The protagonist, police detective Aurelio Zen, is Venetian.
A few plans for the rest of the week:
More advertisements! More purchase orders! Certainly a headache, since during end-of-fiscal-year it's inevitable. No weekend plans except for Hair Day until Dragoncon, unless we find out James isn't working the day of Phyllis' birthday party.
Here is a picture for thought I am sharing...
It's a video. It's funny and absolutely horrifying at the same time. 
If you'd like to participate, check out
The Simple Woman's Daybook
. 
Labels: Simple Woman's Daybook