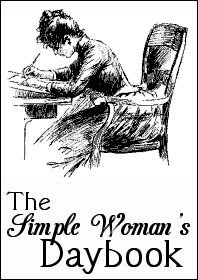 FOR TODAY, JULY 21, 2011Outside my window...
...more watery sunlight and already in the 70s and humid. A couple of birds fluttering around the feeders.
I am thinking...
...how tired I am and that the deluge of purchase orders has just begun. I no sooner woke up this morning than I started to cough and sneeze. Why when I spent most of my day doing nothing but staring at a computer. Not sure if someone at Enterprise Rent-a-Car had germs or if it were someone at Borders, or if this has been incubating. I'm really feeling quite wretched right now. Have taken some ibuprofin and will drink more water.
I am thankful for...
...being inside. The heat and the humidity is very tiring.
From the learning rooms...
...I'm reading
Into That Silent Sea
, a history of both the American Mercury program and the early Soviet missions. I'm learning quite a bit about the Russian cosmonauts and their space program.
From the kitchen...
...empty of food except for the Trader Joe's chocolate cake and some homemade cookies from the Farmer's Market. The latter is dessert tonight.
I am wearing...
...black tank top and shorts and the blue scuffs. Wish I were wearing a blankie and in bed.
I am creating...
...purchase orders. Frankly feeling too dispirited to do anything else.
I am going...
...to feel better, I hope! Will take more analgesics later and keep drinking water. Maybe it's only my stupid allergy.
I am reading...
...
Changes
by Jim Butcher,
Into That Silent Sea
(part of the history of spaceflight series), and still reading through
The Wilderness Warrior, A Discovery of Witches
, and
A History of the World in 6 Glasses
.
I am hoping...
...to get together with some friends this weekend. There's a Brittrack Meet'n'Greet again.
I am hearing...
...quiet right now. Very soon I'll put on a podcast or BBC4X to hear the last part of "Tomorrow, Today!" a comedy about a 1960s radio show about "the future": 2006!
Around the house...
...I just vacuumed yesterday, and the rug still looks like it needs another vacuuming. I need to change the bag on the vacuum cleaner, I think!
One of my favorite things...
...forgive me, right now all I can think of is my pillow and my blanket. Stupid nose and throat! Work, ibuprofin, work!
A few plans for the rest of the week:
Vacuuming (she said darkly). Maybe trying to put the books away. :-) Sleeeeeeep.
Here is a picture for thought I am sharing...
Two, actually:
Thanks for all the memories, guys: happiness, awe, knowledge, discovery, suspense. We'll miss you. 
If you'd like to participate, check out
The Simple Woman's Daybook
. 
Labels: Simple Woman's Daybook