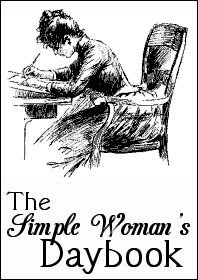 FOR TODAY, JULY 14, 2011Outside my window...
...there's a collection of light, high clouds making it hazy. It is already hideously muggy, the air slung like a heavy blanket over everything. You can barely draw a breath.
I am thinking...
...that I should have been glad for the dry heat we had in June! This is infinitely worse.
I am thankful for...
...air conditioning! Really, weather like this is a misery. Remind me why I'm supposed to like summer again? Heat? Makes it hard to breathe and gives me a rash. Sun? Gives me migraines. Fire ants? Palmetto bugs? Sweat forming the moment you step out a door? Beats me. Okay, one thing: only one washer load of clothes rather than two. Summer clothing is so much thinner that it takes up less space.
From the learning rooms...
...my brain is in neutral this week. Too much to do.
From the kitchen...
...nothing. We've finished the homemade cookies from the Farmer's Market.
I am wearing...
...blue tank top, aqua shorts, and the powder blue scuffs.
I am creating...
...more purchase orders, I hope. I had three I'd hoped I could do yesterday and it turned out due to mistakes I could only do one. Plus the big one I was working on doesn't come out correctly; the option periods aren't separated, and I don't know why.
I am going...
...well, we are going...to finish up watching the Harry Potter films on Blu-Ray so we're all psyched up for the new film tomorrow. Like we haven't been psyched up since we saw the first part in the theatre in November. Not sure when we will actually see it. Opening weekend will be a nightmare.
This is also the Hallmark Ornament Premiere weekend! This year's Dreambook is
here
.
I am reading...
...
Queen of the Road
by Doreen Orion, about a couple who take a road trip in their custom-designed RV;
A History of the World in 6 Glasses
, how six different beverages defined six different periods of history (beer, wine, spirits, tea, coffee, and soda); still working on
The Wilderness Warrior
, and, on my Nook,
A Discovery of Witches
.
I am hoping...
...it will get cooler, or at least less muggy. I have been feeling queasy and uncomfortable all week because of the heat.
I am hearing...
...the hum of the computer and an answering hum from the refrigerator. If I open the bedroom door, I can hear James C-PAP unit faintly. It's much quieter than the previous ones. He's home today because he worked on Sunday.
Around the house...
...Schuyler is occasionally chirping at me, hoping I will come talk to her. She doesn't understand I have to work. Willow is watching me expectantly, although I can't imagine why, as I have finished eating. I'm surrounded by papers from work. Down in the foyer, there's a pile of Independence Day decorations that need to be put up.
One of my favorite things...
...I confess, I am enjoying my Nook. I have a solid collection of out-of-copyright books I have found online, including Angela Brazil's school stories, and some nice free volumes (Barnes & Noble gives out a free book every Friday). Plus when I'm in range of any wifi I can surf the web.
A few plans for the rest of the week:
Possibly Harry Potter, most certainly the ornament premiere. Of course, as mom always said, "With the help of God and a few policemen."
Here is a picture for thought I am sharing...
A cool thought for what has already been a very warm week. Oh, I so want to follow this road into the magical world of autumn, where Thanksgiving and Christmas are around the corner:
If you'd like to participate, check out
The Simple Woman's Daybook
. 
Labels: Simple Woman's Daybook