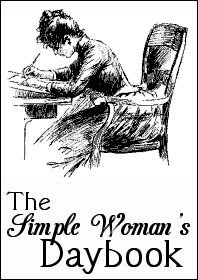 FOR TODAY, JUNE 8, 2011Outside my window...
...sunny...again. It's going up to 92°F today, so sayeth the Weather Channel. June is starting off as terribly as last year. The storms have been holding off, which means the rain has as well.
I am thinking...
...of the work I need to do today. I have an order ready to go and am hoping three others that I can do. Many of my orders have been delayed by the late funding we received due to Congress not passing our budget until this spring. And fiscal year began in the fall! So anyone who did send their order with funding was actually spending money they didn't have. When ordinary folks do that, it's called bankruptcy.
I am thankful for...
...feeling better than I did yesterday. I woke up with my eyes itching, my throat sore, coughing, and not having slept well. Deciding I would be a danger on the road, I called in to work, took something, and went back to bed. I never did fall back to sleep, and when I arose at nine, I felt just as badly as I did at six. So I called in sick for the rest of the day. Swilled lots of water and some ibuprofin, although I think it was my allergy. When I was out at lunch yesterday, the groundskeeper came right by my car window with the leaf blower blasting. I probably got a face full of allergens, since I almost immediately got a sore throat.
From the learning rooms...
...the weekly dose of
How the States Got Their Shapes
last night. Despite its flip tones, I always learn something from this series.
From the kitchen...
...empty, empty, empty. It's potluck night anyway.
I am wearing...
...black tank top, black shorts, and blue terry cloth scuffs. Not going to see much change in this (except in color) until October. :-) I don't dress up to telework.
I am creating...
...I still have craft projects sitting on my table, all sleighted for Christmas gifts. I finally have put up the spring decorations, although they are not back in their proper container.
I am going...
...to be on my own Saturday afternoon. Might be a good time to dub off the first five
How the States Got Their Shapes
. I am still waiting for ABC to repeat the last five
Castle
episodes so I can copy them off.
I am reading...
...still working on
The Wilderness Warrior
,
Demon Ex Machina
, started (and shouldn't have) Nicola Upson's
Angel With Two Faces
, plus
Trolls in the Hamptons
, and am also reading the e-book of "James Potter," a Harry Potter fanfiction sequel novel.
I am hoping...
...to get some of that crafting done this week. It's relatively easy; I just need to pull myself away from my books to do it.
I am hearing...
...the hum of the computer and the click of the keys. The A/C hasn't kicked in yet this hour of the morning.
Around the house...
...it's quiet right now. In a few minutes I will start work and have to turn on the printer, and I shall put on a podcast.
One of my favorite things...
..."the funnies"! First thing in the morning, I must read my comics. I have some set up at GoComics, some at Chron.com. Setting up the new GoComics was a bit of a pain, but it's a lot easier now that my Comics.com comics and GoComics strips are together. And, of course, I read "Kevin and Kell."
A few plans for the rest of the week:
Well, I have Borders Bucks, so hope the new Manor House mystery or the new Gaslight mystery is out. Need groceries. James has his club meeting this week.
Here is a picture for thought I am sharing...
Saturday night at Ragamuffin with Rodney. A fine memory. Good times with friends are the best.
If you'd like to participate, check out
The Simple Woman's Daybook
. 
Labels: Simple Woman's Daybook