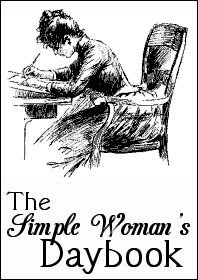 FOR TODAY, JUNE 29, 2011Outside my window...
...the air is clear. We had a "cold" front go through, sweeping the humidity away. Yesterday it looked like someone turned down the contrast button on the television. The air blurred everything. It will still get hot today, but hopefully will not be as sticky. I went out to fill the bird feeders a few minutes ago, and it was delightfully cool, with a breeze. This is rare during a Georgia summer, when it's usually smothery, even early in the morning.
I am thinking...
...very un-peaceful thoughts about the squirrels. I bought a little window bird feeder, hoping to enjoy seeing the little fellows eating, but no matter where I put it on the window, the squirrels can get to it. Yesterday they tipped it over. I'm already annoyed with them because they still manage to leech out of the squirrel-proof bird feeders, using one claw to get a seed at the time. If I wanted to feed squirrels, I'd have a squirrel feeder, and they get plenty of gleanings from what the birds, who are messy eaters, let fall to the ground!
I am thankful for...
...my class being over and being back to work. I still have the thorny problems that prevented me from posting my Daybook last week. Thankfully, the class was interesting because of the teacher, who was very animated and punctuated his examples with occasionally humor.
From the learning rooms...
...well, I hope I learned a little bit more about Appropriations Law this week. Points of it sound more akin to counting angels on the head of a pin.
One thing I did learn was that, when a government shutdown threatens like it did this spring, do not worry about social security payments. They are paid from a totally different budget and are not affected by government shutdowns at all. That part of the Federal government would remain working. So no retired persons or disabled persons would be without their money.
From the kitchen...
...nothing. It's potlucks tonight and I have leftover pork fried rice from Dragon 168. Maybe I'll light a candle later. I had one of my screaming nightmares on Monday evening and spent much of yesterday feeling anxious. Sometimes my sense of smell goes out of whack when that happens. I have a Yankee Candle "Sun'n'Surf" air freshener in my car that has the scent of Coppertone suntan lotion, a scent I love. Yesterday it smelled to me more like bug spray.
I am wearing...
...(all together now) blue tank top, aqua shorts, and blue terry scuffs.
I am creating...
...purchase orders later on, I hope. I have one that's ready to go and two that have come off advertising. One received a response, though, which must go to the appropriate person.
I am going...
...no further than my desk (and the washing machine and dryer today), I hope! I have tons to do after the class.
I am reading...
...coming to a close on
A Boston Miscellaney
, halfway through
Trolls in the Hamptons
, still working on
Here on Earth
and a book about women's stomach problems, and am reading, as an e-book,
A Discovery of Witches
.
I am hoping...
...the weather will change for the better this weekend, but it seems there's no such luck. Sunday it's supposed to be 95°F! Ugh. I can't believe it's already Independence Day weekend coming up!
I am hearing...
...nothing yet. Plan to put on BBC Radio 4X for more of
Five Red Herrings
soon, and then more Sherlock Holmes. The A/C is off, Schuyler is grumpy because I haven't put on "the teevee," and Willow is lying in the path of the dining room air conditioning vent. Even the birds are quiet.
Around the house...
...complete chaos as usual. I feel so unambitious in summer when it's warm. I want to hibernate until winter. Books everywhere, the carpet needs vacuuming again, and I never did manage the stairs last week. Plus two loads of clothes to wash!
One of my favorite things...
...I was thinking of an old one this morning: a parking meter. I know that sounds funny. When I was in college, I frequently had classes only in the morning, or in the afternoon, or with great gaps of two or three hours between classes. So I would head to downtown Providence. Several years ago now, they restored the course of the rivers near Providence and made a feature called "Waterplace Park." But before that it had been a marsh cove that was filled in and had been turned into a very scruffy parking lot between the Rhode Island State House and the old Union Station, where the trains departed for Boston or New York City. Nevertheless, it was my favorite parking lot because it had meters rather than one big fee. You could park for up to four hours for forty cents, when all the other lots were a dollar or two. However, there was one parking meter that was my favorite, because if you put the change in it in the correct combination, it would give you four hours for only 25 cents. I think you had to feed a dime first, which gave you one hour, then a nickel, which would give you 2 1/2 more hours, then the other dime. Back in 1975 and 1976, operating on short spending money, believe me, 15 cents was still a big deal! There were still some places where you could buy a drink or an ice cream bar with that sort of cash!
A few plans for the rest of the week:
Nothing major for this week: finish purchase orders. Wash clothes. Vacuum. I am expecting a new book from Vine, so I'm not starting anything else until it comes.
Here is a thought I am sharing...
Well, here is where I always get stuck. I don't have anything this morning, I'm afraid, as I'm just too anxious to get on to my work. Will try to do better next time. 
If you'd like to participate, check out
The Simple Woman's Daybook
. 
Labels: Simple Woman's Daybook