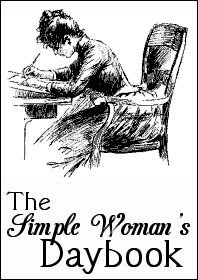 FOR TODAY, JUNE 17
(very late this week; crises at work and at home)
Outside my window...
...it's actually cloudy, but I don't believe it will keep it from being warm. In fact, it will only make it humid. Dry heat is annoying, wet heat is almost unendurable.
I am thinking...
...wildly scattered thoughts; had several emergency matters at work this week, a simply annoying day on Wednesday thanks to heat, clothing, and finally storms that killed James' network card and presumably our router (we didn't try reloading the latter), despite both units having the advantage of a UPS unit. Also that I'd really love a nap, and that I wish they made squirrel baffles for deck posts!
I am thankful for...
...James being able to get a new router and set it up so quickly, despite the bobble we had. It was not connecting and it turned out it was because the unit was automatically directing us to PPPoE. We operate under DCHP, but the router instructions were not specific in directing us to that option; I pressed the correct button only by accident. Anyway, it worked.
From the learning rooms...
...DCHP, DCHP, DCHP...not PPPoE... :-)
From the kitchen...
...I'm going to cook tonight! (Don't faint.) I was supposed to cook chicken thighs last night, but got involved in work and forgot to take them out of the freezer to defrost. James had to buy the new router, so my cooking will save him some money rather than going out to eat tonight. We don't usually spend a lot of money (we eat a lot on newspaper coupons), but it will help.
I am wearing...
...er, blue tank top, aqua shorts, and powder-blue scuffs. This won't change until the end of September. (I'm utterly appalled looking at the weather report. 97 on Tuesday? Why? Why?)
I am creating...
...at this point, letters on a page. I have not felt a muse to go craft.
I am going...
...a nap at lunchtime might be nice...doesn't that sound unambitious?
I am reading...
...er, let's see:
Rebirth of a Nation
(1880s-1920s in the US), still doing bits at a time on
The Wilderness Warrior
and
Once and Future Giants
(I really need to finish the latter; I'm reading it so sporadically, but I love palentology and really am enjoying it.)
I am hoping...
...we get more rain, but unaccompanied by the thunderous stuff we had on Wednesday nights. I've always enjoyed thunderstorms as long as they kept their distance, but they appear to be getting louder as I get older, as opposed to everything else. It's amazing how much everyone mumbles after you get into your 50s. :-)
I am hearing...
...the low voice of the radio, the hum of the everlasting fans, the faint jingle that means Willow is stirring, the faint birdcalls outside.
Around the house...
...well, it needs a vacuuming. Books lie everywhere, as well at the remains of the router wrappings. The bed will be made later after it airs out, but thankfully the laundry is done.
One of my favorite things...
...Sherlock Holmes! I'm planning to listen to more BBC radio adaptations this morning. One of the newest ones up on Radio 4X is "Silver Blaze," from which comes the comment about the mysterious behavior of the dog in the night-time. I'm happy to hear there are three new episodes of the modern-day
Sherlock
coming up. It's a very enjoyable series.
A few plans for the rest of the week:
Brittrack get-together on Saturday! Good company and...more lamb stew! Plus the usual grocery shopping on Sunday, I suppose.
Here is a picture for thought I am sharing...
I was dreaming of autumn, and found this and other lovely pictures on GeniusBeauty, but this was the one that appealed so much. I want to stroll down that road and drink in the color, and feel that lovely cool mist! I want jacket weather. I want summer to back off...
THINK FALL! 
If you'd like to participate, check out
The Simple Woman's Daybook
. 
Labels: Simple Woman's Daybook