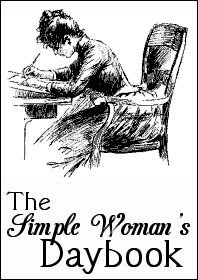 FOR TODAY, JUNE 1, 2011Outside my window...
...a sullen, leaden sunrise. It has been in the 70s during the night, heading up into the 90s today. [later: it got to 95] Even the birds are reluctant to come out. I miss it being cooler and being able to hear the birds chirping through the open windows. I wish summer didn't have to be so brutal.
I am thinking...
...of the things needed to do before Saturday night. Since we were at Timegate the normal housework didn't get done, plus we are having an overnight guest. So my lunch hours are quite taken for the week! Today is laundry day as well.
I am thankful for...
...the lovely weekend we had at Timegate! Even with the hotel room problems it was a blast! Andy Runton, Louis Robinson doing Holmes and codes, the fun
Doctor Who
songs by the Ken Spivey Band, seeing friends, other great panels...a great package in three days!
From the learning rooms...
...LOL...I'm on vacation this week.
From the kitchen...
...something tempting is in the refrigerator for dessert tonight. We found some chocolate cake shells on discount at Kroger for 49 cents. James made pudding last night and filled the shells. Tonight we'll have them with a little whipped cream on top.
I am wearing...
...blue tank top, aqua shorts, and powder blue terry scuffs. The usual in summer.
I am creating...
...later, purchase orders, but right now, breakfast. :-) The usual: oatmeal, yogurt and a nice glass of skim milk.
I am going...
...to take down the spring decorations today. The sole sign of summer will be in the foyer, where the little table holds seashells, lighthouses and ships. Otherwise it's fall forever once more. In this way we'll survive the summer.
I am reading...
...a Chicken Soup for the Soul book,
A Dog's Life
,
A Boston Miscellaney
, and more of
The Wilderness Warrior
. I just got an Amazon rewards coupon and pre-ordered the new
Time Unincorporated
book, as well as the new Julia Grey novel. And I have Borders Bucks! Yay!
I am hoping...
...to get my monthly book reviews done tonight; wish me luck! I was reading a lot in May, so there were many books to get through. I still have four to go.
I am hearing...
...the very low sounds of the fans beating perpetually. It always beats me when I watch decorating shows and the first thing they tear out is the ceiling fans! How do these folks keep cool in the summer, just turn the A/C down? That seems very wasteful!
Around the house...
...signs of disorder need to disappear! I need to be firm with this: things are starting to appear on the dining room table again. Horizontal surfaces do gather clutter so!
One of my favorite things...
...a special memory about this day. When I was a girl my mother bought an LP called "Songs of Summer." One of the songs was "June is Bustin' Out All Over," and every year, on June 1, I would play this song. It meant school was coming to an end for the year, and soon it would be vacation time. I inherited the record, but I don't feel like celebrating June any longer, especially when it's 90°F!
A few plans for the rest of the week:
Tidying!
Here is a video for thought I am sharing...
Timegate being over suddenly reminded me of this song. I think it was the chorus: "Happiness is anyone and anything at all—that's loved by you." Ain't it the truth? 
If you'd like to participate, check out
The Simple Woman's Daybook
. 
Labels: Simple Woman's Daybook