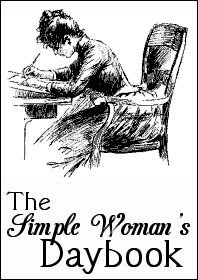 FOR TODAY (VERY LATE), MAY 19, 2011Outside my window...
...a bit overcast this morning, but I know that will burn off. After a nice respite of cold, it is going back up into the 70s today, and 80s tomorrow. It is also very quiet because the bird feeders are empty. I simply wasn't feeling well enough yesterday to go outside and refill them.
I am thinking...
...how nice it would be if it stayed cool. I know the crops need sunshine and warmth to grow, but the eventual 90s don't do any good for them, either. I could bear 70s with a breeze, although I prefer colder. 80s and 90s are just too ridiculous.
I am thankful for...
...feeling better at the moment. My digestion operates on a whim. I've been trying for several years now to pin down what foods I have problems with, but trouble is, it is never the same food twice, so, who knows, it may be a combination that I haven't figured out yet. The doctor is puzzled as well, since I can eat a food one week which bothers me the next, then doesn't bother me again. I do know I have trouble with chicken at certain places. I believe it's not the chicken itself, but additives a particular store or restaurant uses, so I avoid those places now for that product. Oddly, I also have a problem with Cheerios or clones of same.
From the learning rooms...
...I am thoroughly enjoying
How the States Got Their Shapes
, although I wish they'd lay off on about half of the stupid jokes/questions. Evidently they want to keep it lighthearted so people who aren't history or geography "geeks" will stick around. I had no idea a meteor crater formed part of the Cumberland Gap!
From the kitchen...
...we have some pork chops defrosting. I'm certain James will do something yummy with them. One of the easiest things he does is, instead of using a bit of canola or sesame oil in the pan, to pan fry them in applesauce. Not only are there fewer calories from the oil, but it makes the pork sweet and delicious. We use no-sugar-added applesauce, so it is a completely natural flavor. I do not get why so many foods have added sugar in them! Why add sugar to most fruit juices to make "cocktails"? Fruits are sweet enough. And what's with spaghetti sauce with high-fructose corn syrup in it? Ugh.
I am wearing...
...a green T-shirt, Mutts pajama bottoms, and white socks with my scuffs on. Later when it gets up to the 70s I may have to change outfits.
I am creating...
...some Christmas gifts. I finally have all the "ingredients" and now just have to sit down to do them.
I am going...
...to put in an order to Hamilton Books for a few volumes. Most are books I was planning to purchase when the paperbacks came out; why buy a paperback when I can get the hardback cheaper? I also have two gifts to put away. The actual purpose of the order is to get an annotated version of one of my favorite novels of all time,
The Adventures of Huckleberry Finn
. These annotated novels are very expensive, but this is at 60 percent off, an excellent discount.
I am reading...
...
Time Unincorporated 2, The Doctor Who Fanzine Archives
(commentary on the classic series), and a chapter or two at the time of
The Wilderness Warrior
.
I am hoping...
...an upcoming house guest comes earlier, not later. :-)
I am hearing...
...the computer is humming and there's an airplane overhead. Nice quiet environment for working. In a few minutes I will put on a
Doctor Who
podcast and start my workday.
Around the house...
...well, the laundry was done yesterday, although I still have to get the towels out of the dryer. Cleaned up the magazines and around James' chair yesterday as well. Really need to place a project in progress somewhere else than in the spare room, as it is taking up too much space.
One of my favorite things...
...Baskin Robbins coupons! We need to use one this weekend.
A few plans for the rest of the week:
The usual shopping. James is working Sunday, so perhaps I'll dub off
How the States Got Their Shapes
. Can't do
Castle
yet because two episodes are plastered with storm warning alerts.
Here is a thought I am sharing...
You know, this is the most difficult part of this whole process! I never know what to say or post, and usually end up stopping and coming back later...how about my favorite?
THINK FALL!
:-) 
If you'd like to participate, check out
The Simple Woman's Daybook
. 
Labels: Simple Woman's Daybook