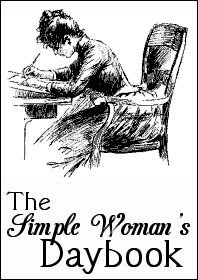 FOR TODAY, MAY 4, 2011Outside my window...
...sunny and COOL! We had a cool front move through yesterday during evening rush hour; it was a pain to get home (seventy minutes!) but it was much cooler when I got home than when I left work! The wind is rustling the leaves, and that wretched squirrel is after the bird feeders again. Isn't there some sort of baffle that goes around the deck posts that will keep the squirrels from climbing up to the deck?
Anyway, we are having "blackberry winter" (the opposite of Indian summer) and I will enjoy.
I am thinking...
...actually, my mind is in neutral right now. I should be thinking about cleaning up...books everywhere!
I am thankful for...
...storms that pass over without damage. The photos and video still coming in from Alabama and North Georgia is heartbreaking. We drove through the pretty area in Georgia two years ago where the most damage is now. Sad to see the broken trees, but worse the broken lives.
From the learning rooms...
...I can't put a finger on what I'm learning now, but I would LIKE to learn how to deter squirrels. :-)
From the kitchen...
...we have one serving left of the lovely fresh strawberries we bought from the Farmer's Market, to go along with strawberry angel food cake. Not sure if we need to eat it tonight or it can wait till tomorrow.
I am wearing...
...scrubs pants and my Owly t-shirt and white socks. They sell the scrubs even at the Dollar Store and they are great for hanging around in. You may have to wash them a dozen times to get them soft enough, though, as they are well sized.
I am creating...
...this entry? Really, I've been very remiss lately.
I am going...
...to vacuum, I promise! Oh, this dreadful carpet! I wish we'd had the money to get hardwood floors!
I am reading...
...still reading
Once and Future Giants
. I have also started A.J. Jacobs'
My Life As an Experiment
, which was a remainder find,
The Wilderness Warrior
(Theodore Roosevelt), and am about a fourth into Barbara Hambly's 1833 set New Orleans mystery,
A Free Man of Color
.
I am hoping...
...to be a little more attentive to my poor, neglected Live Journal. To be honest, I joined LJ because a couple of friends only would accept readers who were LJ members. So I'm very sporadic. Today I looked at the forlorn thing, changed to a cheerful Christmas-themed template, added a couple of more pictures, and hope to go in there occasionally, if just to answer a "writer's block" question.
I am hearing...
...nothing. It's so cool that the A/C is off. In a minute or two I will put on a podcast. Leo Laporte, I think.
Around the house...
...it's cozy here around my work desk. Schuyler is glaring at me because I have not put the television on for her. In the spare room we are still working on bug-out bags in case of emergency.
One of my favorite things...
...aired on television last night and I will watch it tonight: a new historical series. This is based on the book
How the States Got Their Shapes
, and will concentrate how the borders between each of the US states "got that way."
A few plans for the rest of the week:
Well, James works on Saturday, so I'm not sure what I'll be up to. I ought to go up to JoAnn and see if the new Michaels "next door" (almost literally) has opened. We'll have dueling craft stores because there's also a Hobby Lobby within walking distance (and a Hobbytown a scant quarter mile further).
Here is picture for thought I am sharing...
A last look at Westminster Abbey, the lovely site of last week's royal wedding. I loved seeing all those historical buildings, and even learning more about them. I knew about the Poets Corner, but I did not know that Britain's "Unknown Soldier" was interred there. 
If you'd like to participate, check out
The Simple Woman's Daybook
. 
Labels: Simple Woman's Daybook