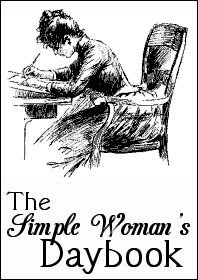 FOR TODAY, MAY 26, 2011
(because I totally forgot yesterday)
Outside my window...
...a mix of watery sun and clouds. It is supposed to rain later today, thunderstorms from the west that have been doing a great deal of damage. A friend in Oklahoma had to hole up during a tornado. Just another reason that summer's high temperatures are not pleasing.
I am thinking...
...of the weekend. Cross fingers, we are planning to have some fun this weekend, including seeing friends on Saturday.
I am thankful for...
...Willow's bath being over with. I know that's funny. But it's a chore giving her a bath, kneeling at the side of the bathtub with aching knees. If she would only stand still. I try so hard not to get water in her eyes—I remember how much I hated that as a little girl when my mom washed my hair!—and her ears, then she moves and water gets there anyway. She is getting better as she gets older, but I wish for a little statue, just for the time it takes to get the job done!
From the learning rooms...
...I've mentioned this previously: the PBS special about the World War I ambulance corps. Imagine going for a tramp in the French countryside and finding leftover war relics almost 100 years old!
From the kitchen...
...James gave it a good scrub last night and loaded the dishwasher, so it's relatively tidy. We're having the last of our prepared dinners tonight, Italian beef, in prep for a holiday weekend.
I am wearing...
...blue tank top, aqua shorts, and powder blue scuffs. "Am I blue? Am I blue?" :-)
I am creating...
...not really creating, preparing. For the weekend.
There, that's suitably obscure.
I am going...
...out to fill the bird feeders next. They certainly have been cleaning up the seed, although I suspect that wretched squirrel has helped. We have "blown it" by not bringing up the new birdseed and putting it into the can last night. Some rain is supposed to arrive before noon.
I am reading...
...depends on where I am. In the hall bath:
The Little Ice Age
. At bedtime:
A Boston Miscellaney
. At the sofa:
Our Glorious Century
(coffee table book by "Reader's Digest"). Plus I dip into
The Wilderness Warrior
.
I am hoping...
...that the storms haunting the Midwest will dissipate. The photos from Joplin are as saddening as the ones from Alabama and north Georgia a month ago.
I am hearing...
...birds complaining about no seed. Mr. Cardinal utters a continuous "Chip! chip! chip!" The air conditioning is off at the moment, so there is no hum in the background.
Around the house...
...must tidy! must tidy! We have a guest next Saturday night and there is nowhere for him to sit in the living room!
One of my favorite things...
...Lord Peter Wimsey! I am presently listening to "Clouds of Witness" as it is presented on BBC Radio 4X this week. Ian Carmichael is Peter in all these radio adaptations done in the 1970s, which is just fine with me. In this outing, Patricia Routledge plays the Dowager Duchess of Denver. She is just perfect for the role!
A few plans for the rest of the week:
A change of pace for the holiday weekend. Stay tuned!
Here is a picture for thought I am sharing...
I didn't know what to put here until I saw the comics this morning:
Yes, I read e-books--but let's see an e-book capture that wonderful library scent. Nothing smells like a
real
book! 
If you'd like to participate, check out
The Simple Woman's Daybook
. 
Labels: Simple Woman's Daybook