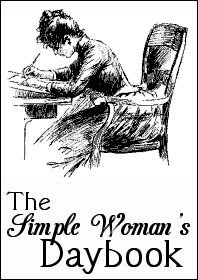 FOR TODAY, MAY 11, 2011Outside my window...
...sunny, and working itself into "hot," sadly. It's supposed to be in the low 90s today. The birds are twittering each other and I know it's about time for me to refill the feeders. There is a sparrow sitting on the only feeder with a little bit of seed left, and he looks a bit disconsolate.
I am thinking...
...not much; gearing myself up to work. I was a little blue yesterday because it would have been my parents' wedding anniversary.
I am thankful for...
...a cool house when it's this warm outside. Some folks love the sun so much, but it really bothers me when it's too hot. I was listening to a Rick Steves' podcast about Bermuda earlier this week, and can't imagine deliberately going anywhere it's warm for the reason of being warm. Maybe I'll change my tune as I get older, but right now it's painful. :-)
From the learning rooms...
...another great episode of
How the States Got Their Shapes
last night. I really must keep these! This week they talked about Chicago...and Boston drivers. The fellow they spoke with, asked "What advice would you give drivers in Boston?" gave the only sensible answer: "Park the car, take the T." Amen! The most gloriously walkable city ever, especially now that expressway is gone. Who drives in Boston? Bus and cab drivers and cops 'cause they have to, otherwise idiots and tourists. :-)
From the kitchen...
...quiet! But I must cook some rice tonight. Haven't had rice and soup in a couple of weeks and am "jonesing" for it. Probably my favorite meal.
I am wearing...
...blue tank top, aqua shorts, and blue scuffs. Much too warm to wear anything else.
I am creating...
...or will be creating, when I go back to Michaels or JoAnn, to get one more part for a gift project, which is why I can't talk about it.
I am going...
...to buy a new rug for the door to the deck. The one there is just too small. Ironically, I wish they still made them in this size, but Walmart has quit selling them, and I haven't seen them anywhere else.
I am reading...
...still reading Hambly's
A Free Man of Color
. There are many characters and I must be deliberate about my reading to keep track. I've just started
The Wilderness Warrior
; it's a massive book and will take some time even if I read it constantly. I've also started
The Little Ice Age
.
I am hoping...
...my Amazon package will come soon; the new Penderwicks book is included.
I am hearing...
...birds (including Schuyler, who just clucked at me because her teevee isn't on; soon I'll finish up the two Rick Steves' podcasts I didn't hear the end of Monday and yesterday).
Around the house...
...many things to put away, and I still need to clean out the spare room closet. I think the problem is that I don't know what to do with the floppy disks. Would Goodwill actually want them? Who uses floppies anymore? Yet I feel so wasteful throwing them out.
One of my favorite things...
...the new
Hawaii Five-O
! I was very skeptical about this show, especially at first where they were going to mess with the theme song. Wisely, they just left it the same. I am happy with the entire cast, especially Scott Caan as "Danno," He's sweet and tough all at once. Grace Park and Daniel Dae Kim are super as well. I love it when Kono "kicks ass." Alex O'Loughlin is good as Steve McGarrett, but he's just your typical action hero protagonist; nothing really unique about him. Oh, and I love the CIA agent; I hope she joins the cast.
A few plans for the rest of the week:
Hair Day on Saturday, and I think we have a trip to BJs planned. There are some nice coupons, including for omeprazole.
Here is a thought I am sharing...
...I don't have a profound thought...I do have a "laughter is the best medicine" link (warning: this site can get scatological and rude):
Damn You, Autocorrect!
WARNING! Do not read this site...at work, if you need to pee, if you have lung problems... 
If you'd like to participate, check out
The Simple Woman's Daybook
. 
Labels: Simple Woman's Daybook