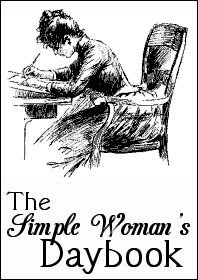 Hoping better late than never...
FOR TODAY, APRIL 28, 2011Outside my window...
...after all the wind, rain, and weather radio storm warnings of yesterday, it is 60°F, breezy, and sunny. The leaves are bobbing, the sun dancing between them, the birds are at the feeders, as if the potential doom of last evening never existed.
I am thinking...
...this was a better day for posting. Yesterday was a bit intense: portents of the storm had been all over the news, then when I uncovered Schuyler I discovered she had been sick earlier (she was spitting up brown mucus) and looked quite miserable, that made me so nervous
I
got sick, then all the wind and terrible devastation reports from Alabama on the news.
I am thankful for...
...no damage done in our neighborhood and few people harmed. There are folks who died during the passage of the storm and others who have lost all they had. There are no words that are adequate to the tragedy.
From the learning rooms...
...well, bits of trivia about New York City from
Inside the Apple
!
From the kitchen...
...we're having an interesting meal tonight. Because we were having our homeowner's association meeting last night, James stopped at Jersey Mike's for sandwiches. He had a coupon for buy two sandwiches, get one free. Well, he brought home three ginormous sandwiches, including mine, which was a foot long and stuffed with real roast beef (not that fake stuff Arby's uses), and cut into quarters. I was only able to eat one quarter and half of another quarter before I surrendered. Honestly, there is enough roast beef left for a meal, so that's what we're having for supper tonight—James will warm it up and make some gravy to go over it. We have leftover rice as a side and can have a salad as well.
I am wearing...
...a royal blue tank top, aqua shorts, and white socks (because it's still a bit chilly), with my blue flip-flops.
I am creating...
...more purchase orders, as always.
I am going...
...to watch the royal wedding tomorrow. I can't wait to see all those beautiful historic sites in HD! I got up early to watch Prince Charles and Princess Diana's wedding in 1981, too, which was quite beautiful. I hear I need to be on the lookout for Camilla's hat, as she apparently wears some extraordinary ones.
I am reading...
...still reading through Simon Winchester's
Atlantic
and Sharon Levy's
Once and Future Giants
, not because they are bad, but because there is so much else I wish to read. I have just begun
The Wilderness Warrior
about Theodore Roosevelt. I'm also still reading a story or two intermittently in
The Mammoth Book of Sherlock Holmes Stories
.
I am hoping...
...to get to sleep early tonight! Not sure whether to bunk Schuyler down in the spare room or not. It might scare her. But I don't want to wake her up early, either.
I am hearing...
...birds chirping! And that's about it, they're pretty loud. It's too cool for the A/C to have lit off.
Around the house...
...Schuyler's eating (I think she's feeling better; I'm hoping she was just feeling bad from the draft she was getting Tuesday night from a combination of the ceiling fan and the A/C), Willow's sleeping on James' chair, the television's on low for Schuyler, and I'm surrounded by my work desk and tray.
One of my favorite things...
...I'm about to listen to when I get done with this: the radio series "A Way With Words," about, what else, words! This is hosted by Grant Barrett and Martha Barnette and produced by American Public Radio.
A few plans for the rest of the week:
Well, the royal wedding. The Smyrna spring Jonquil Festival is this weekend as well. If we go, we'll probably do it right after we get done at the farmer's market, when it will be cool.
Here is a thought I am sharing...
I've already posted it, but I think it significant enough to reprint. From Robert Fulghum:
Meanwhile, the trucks of fate roll by.
The trick is not to get run over by one.
The trick is to be there, alert, by the side of the road, with your thumb out. So that if the truck with your number on it just happens to come along, you will know. And you will get in and go. And the ride will be as long and as lovely as you always imagined it might be.
If you'd like to participate, check out
The Simple Woman's Daybook
. 
Labels: Simple Woman's Daybook