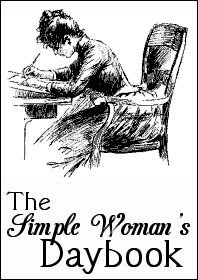 FOR TODAY, APRIL 5, 2011Outside my window...
...it's a chilly but sunny morning. The weather is like a seesaw—83°F on Monday, then terrible storms, barely up to 60 yesterday. It's supposed to be 70 today, going up to 80 again over the weekend. not my favorite, but to think positively, at least my toes won't be cold like they are now. The trees are almost fully "leaved" and the lawn is spiking with weeds despite overwinter treatments by TruGreen. The birds are flittering about the feeder; when I went to get my breakfast I was treated to a house finch in the window feeder. How sleek he looks! He won't look that good in late summer, after raising a couple of clutches of eggs.
I am thinking...
...that we haven't been to Tanger and the flea market in a long time. It just popped into my head as I was lying down half-asleep. I think it was prompted by the news story about the other flea market that had a fire the other night. Very sad as many vendors lost their living. It's nice just to walk around, and we occasionally find a goodie. My purse is from the flea market down in Jonesboro.
I am thankful for...
...no damage from the storms on Monday night in our neighborhood. The news reports yesterday were frightening. The saddest story was about a young man who was driving to a friend's house after the storm. A tree fell directly on the front seat of his car, killing him.
From the learning rooms...
...I'm learning all sorts of fascinating things about New York City via
Inside the Apple
. Just finished the section about how Longacre Square became Times Square.
From the kitchen...
...deserted at this time of day. James made steak and corn on the cob last night, our first corn on the cob of the season. It was good, but not quite up to snuff yet.
I am wearing...
...a green T-shirt, "Mutts" jammie bottoms, and white socks. I had to go out like this to open the gate for the TruGreen guy. :-)
I am creating...
...nothing at the moment. The homemade gift is still half in progress.
I am going...
...to be busy the rest of the week. I've had a great influx of purchase orders.
Of course I may be less busy next week if Congress doesn't pass a budget...
I am reading...
...the Chicken Soup for the Soul
Living Catholic Faith
, Rozan's
Shanghai Moon
, and the companion book to
Meerkat Manor
, along with the aforementioned New York book.
I am hoping...
...to keep moving along on my decluttering project. I need to get rid of the cases of programs on floppy disk in the spare room closet. They've been stuffed in the closet since we moved in; we're never going to use them again.
I am hearing...
...nothing at the moment, but in a bit I'm going to listen to the new
Torchwood
radio story on BBC Radio 4 Extra.
Around the house...
...it's blessedly quiet. No fan whirring. No loud voices in the corridor.
And no fluorescent lights. A true blessing.
One of my favorite things...
...will happen on Saturday: it's Hair Day; a nice morning and noon hour with friends. James is making the centerpiece luncheon, "light chicken cacciatore."
A few plans for the rest of the week:
Work, work, work! And now that I have five
Castle
episodes, I need to transfer them to disk. Maybe Sunday whilst James is at work.
Here is a picture for thought I am sharing...
Real life was never so perfect, but...how about exercising your imagination like these folks? Turn off the idiot box and listen to some old-time radio (there are several websites where you can find OTR, and SiriusXM has an OTR channel), modern radio drama (try BBC.com and ARTC.com; more is out there), or borrow or buy an audio book! 
If you'd like to take part, check out
The Simple Woman's Daybook
. 
Labels: Simple Woman's Daybook