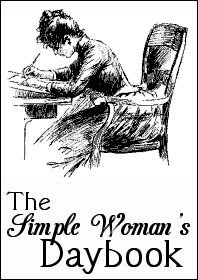 FOR TODAY, APRIL 21, 2011Outside my window...
...a rather watery sunlight. It did rain last night as they predicted, and smells moist and cool outside. First thing I had to do this morning was chase one of those flea-bitten squirrels off the bird feeder. They can glean all they like from the ground—quantities of seed are dropped; all the birds are "messy eaters." No need for him to climb on the feeder poles and scare the birds. Now a tufted titmouse is industriously dismembering a safflower seed.
I am thinking...
...well, I mustn't think what I'm thinking. It isn't simple, or restful (technically), and it costs money. :-) Heaven protect me from "scathingly brilliant" ideas.
I am thankful for...
...quiet, circulating air, and no stuffiness. Oh, and after Monday and Tuesday in the office: fresh, clean water!
From the learning rooms...
...just finished the March issue of "BBC History Magazine." Nice article on the King James Bible, and also on the Battle of the Atlantic.
From the kitchen...
...just the scent of a "roasted coffee" candle from Yankee Candle. I love the scent of coffee; it reminds me of Christmas and Easter and family get-togethers and my mom brewing a pot in the morning for herself and my dad. I slept right next to the kitchen and it was always a heavenly odor to arise to.
I am wearing...
...turquoise blue shorts, a royal blue tank top, and white socks (well, it's not quite that warm...yet).
I am creating...
...more purchase orders!
I am going...
...to cut out the coupons at lunchtime. It's trash night tonight as the garbage men will be coming tomorrow. Very mundane. When I get through writing this I will listen to more of "This Week in Tech," or "The Tech Guy."
I am reading...
...
A Rather Lovely Inheritance
, which is chick-lit for sure, but, honestly, makes me want to run off to France (and I've never wanted to visit France!). Also still reading Simon Winchester's
Atlantic
, and enjoying the March British "Country Living."
I am hoping...
...to have a quiet Saturday with James at work. I have some serious dubbing off to do; the DVR has only 13 hours of recording time left on it. I have to get off
Walt: The Man Behind the Myth
which will be ticky because it aired on MSNBC or CNBC or whatever, and commercials are stuck in it willy-nilly. I know commercials pay the bills, but they could at least be
neat
about it, and have decent fade-outs.
I am hearing...
...birdsong! They are everywhere, giving little chirps of delight at the feeder, and perching on the chimney, their voices echoed by the shaft, declaring their territory.
Around the house...
...it's a mess. I have to still look through the Sunday paper, cut the coupons, and vacuum.
One of my favorite things...
...my lovely Droid. I listen to podcasts or music, read books (I have the Kindle, Nook, Borders and Google apps, plus Aldiko), play the odd game of Jewellust Christmas edition or others, set timers, pull up coupons, check the traffic report or the weather report, get directions, find out what's the bright star (love Google Sky!), take quick pics or movies, keep a calendar and task list and birthday reminders, find a hotel or a place to eat, figure a tip, look up calories on something, read the news, keep my Christmas gift list, use the calculator...
Sometimes I even make phone calls. :-) (I make very few phone calls on it, and mostly for work—we had to get a certain plan, at a certain price, and I already had a plan with a lot of calls on it from back when my mom was alive, so I could call her as much as possible for "free." All that time's still on there, so now I call long distance while I'm teleworking.)
A few plans for the rest of the week:
I have tomorrow afternoon off. It's Good Friday, so I want to spend it quietly. I've officially finished my Lenten reading (
The Year of Living Biblically
and
Chicken Soup for the Soul Living Catholic Faith
; Rubin's
Happiness Project
was also thoughtful in that vein), but I do have others I can dip into.
Here is a picture for thought I am sharing...
This was the title I first read it under, in the junior high school library. It's now pretty much universally republished under its original British title,
Cider With Rosie
, although I am fond of the American title. "Edge of Day" sounds as if the whole world was spread in front of you, just as Laurie Lee's was. Tremendous book, prose written with such a poetic touch. I had never read a book like it. When I found it a few years later in a used book store, I grabbed it; also a book of essays of his,
I Can't Stay Long
. I was reminded of it the other day in the Hamilton Books catalog. Lovely book, well worth your time. 
If you'd like to participate, check out
The Simple Woman's Daybook
. 
Labels: Simple Woman's Daybook