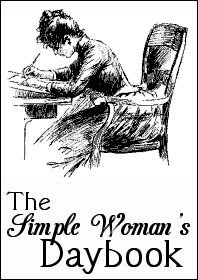 FOR TODAY, APRIL 13, 2011Outside my window...
...it's sunny with a little breeze, not like the brisk wind we had yesterday. At one point I had to fight with the gate to the yard to get it open, as the wind was pressing it closed as hard as I was trying to open it up. I would not have to look out the window to see that the birds are already at the feeders, because I can hear their twittering.
I am thinking...
...happy thoughts about the weekend. We'll see a friend we haven't seen in...goodness, I believe it's almost three years! We usually drive to Birmingham for her wonderful Christmas parties, but in 2009 there was a wild rainstorm that night, and last year I just couldn't face being in a house with cats twice in one day. I love everyone's cats, but my allergy doesn't, and we drove home from her party in 2008 with my nose swollen, my eyes streaming, and my lungs rebelling.
I am thankful for...
...being able to see Shari and most of our friends this weekend!
From the learning rooms...
...I think this will be covered in "I am reading" this week, but I did listen to a "Travels with Rick Steves" where Rick spoke to a Turkish Muslim woman (one of his tourguides) and an Italian Jewish woman. I enjoyed learning about the Five Pillars of Islam and also about the long history of the Jewish faith in Rome.
From the kitchen...
...leftovers. We're having the remainder of the "light" chicken cacciatore tonight.
I am wearing...
...Mutts pajamas and white socks. It went down to the forties last night and is nice and cool in the house.
I am creating...
...in a few minutes, a purchase order. Voilà! (And hopefully another, and another.)
I am going...
...to be listening to more radio drama on BBC Radio 4 Extra today. There's a new episode of
Torchwood
, another adventure with
Doctor Who
, and perhaps some comedy.
I am reading...
...
The Year of Living Biblically
by A.J. Jacobs. It's a tongue-in-cheek narration of what happens when the author attempts to live strictly by Biblical principals, eight months from the Old Testament, four from the New, for an entire year. He grows a beard (but doesn't trim it), has his clothes vetted so he's not wearing garments of two different fibers together (note: there's no problem with cotton/polyester, it's linen/wool that's the sticker), etc. It's humorous, but at the same time insightful, as Jacobs really does attempt to learn from the experience, rather than just being snarky all the time. I'm reading this as something spiritual for Lenten reading, and it does make you think.
I am hoping...
...well, I
was
hoping it would be cooler this weekend, based on early weather forecasts, but it seems it's not to be...low 70s. Thank goodness for my hat!
I am hearing...
...nothing, since it's not cold enough for the heat to have kicked in or warm enough for the A/C to be running. Schuyler is always quiet right after I wake her up...she wants her "teevee." She won't be happy if I listen to the BBC or podcasts (although I do believe she's getting used to Leo LaPorte's voice!).
Around the house...
...laundry baskets, readied to go downstairs to the laundry room. I wash clothes, then towels, on Wednesday.
One of my favorite things...
...is the PBS series
The American Experience
. They had a fascinating show last night called "The Great Famine," about the Volga River basin post-World War I. Herbert Hoover, who had orchestrated the Belgian relief during the war, and who later became the villain of the Great Depression, arranged to have American representatives move supplies of grain and other foodstuffs to the starving residents of the area. The photos were horrifying, matching the worst photos from the concentration camps in World War II. The documentary told the story of the American representatives and their encounters with the Russian people, and, amazingly, they even had a survivor of the famine, a man who was three years old at the time, but still remembered the condensed milk that was distributed. A great combination of old newsreel footage and modern recreations.
A few plans for the rest of the week:
Work, work, work—and them coming to cut the lawn tomorrow. The front lawn is just beginning to get scruffy, but the back lawn...you should see where the birdseed falls! The grass growing there is knee-high! Well, that shows that the birdseed is viable. :-)
Here is a picture for thought I am sharing...
Well, a memory, really:
It's the Minne-ha-ha steaming her way across Lake George. My parents and I first went to Lake George in July of 1968. If there was ever someone hooked by a place, it was me by Lake George. I have memories that make me smile, diary entries, photographs, and even my little china collie trio, Lad, Lady and Wolf, all from happy days by the lake.
Like Kermit, I'd like to go back there some day... 
If you'd like to participate, check out
The Simple Woman's Daybook
. 
Labels: Simple Woman's Daybook