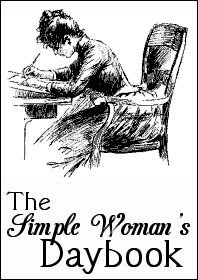 I have decided that it is simply impossible to do these on Tuesday as designated; by the time I get to sit down on Tuesdays, it's evening already with no time to give this the reflection it needs. Wednesday is more suitable to the task.
FOR TODAY, MARCH 2, 2011
Outside my window...
...the sun is streaming into the dining room and the kitchen since the windows face east. It is sunny but cold outside, in the 40s, just perfect for sleeping last night.
I am thinking...
...about starting to work in a few minutes. I have several orders which I can do today, which makes me happy, as I had a bottleneck of them last week.
I am thankful for...
...it getting cool again. It is difficult to sleep when the temps are over 60 at night. Our bedroom is upstairs and, despite the better insulation on this house than the last, it is always too warm in the bedroom even with a ceiling fan going constantly and fans next to the bed. I linger in delicious sleep when it is cool.
From the learning rooms...
...I just finished a small book called
How Shakespeare Changed Everything
, chronicling how our language, literature, even our lives have been enriched by Shakespeare's plays. One thing that wasn't enriched was our atmosphere, as it was a Shakespeare fanatic that introduced the starling to North America, wishing to have all birds mentioned in the plays in the United States. The starlings destroyed many native American bird populations' nesting grounds.
From the kitchen...
...you'll rarely find that contribution here; hubby is the cook in the house. He loves to experiment, and most of his turn out lovely! Occasionally he cooks something I won't (or can't eat) and once an experiment turned out so badly that not even the dog would eat it. :-) That was definitely bad.
I am wearing...
...the old white WordPerfect sweatshirt Alice made for me, blue sweatpants, and white socks. My feet are cold; I need slippers but if I put them on, it makes static electricity which plays hob with the computer.
I am creating...
...nothing at the moment, but have another decoupage project planned (yes, more smelly Modge-Podge). I can't post it here because it's intended as a gift.
I am going...
...to the Cobb County Library sale on Friday, knock on wood. I really don't need anymore books, but have found the occasional gem there: several Christmas books last year, including Marjorie Holmes' classic
When the Heart Finds Christmas
,
The Next Exit
, a book that tells you what is on each exit of every interstate highway, etc.
I am reading...
...several things:
Inside the Apple: A Streetwise History of New York City
, John McPhee's
Coming into the Country
about living in Alaska, a Bryant and May mystery by Christopher Fowler, and
Murder Your Darlings
, a mystery story starring Dorothy Parker.
I am hoping...
...my sinus headache goes away. I forgot to take my Claritin last night, and the pollen count has left me with stuffy nose, itchy eyes, and pain in the front of my face.
I am hearing...
...birds chirping outside—they sit on the chimney and chirp, and the sound is magnified by the hollow of the chimney—and Schuyler chowing down on some bird seed.
Around the house...
...it badly needs vacuuming, especially the stairs. We could wipe our feet (and the dog's feet, which we do each time she goes out) for five minutes and still manage to drag leaf bits, stray grass, and Georgia red clay on the stair carpet.
One of my favorite things...
...is listening to radio programs on BBC Radio 7 via the internet. This morning I think I am going to listen to Tom Baker read
Doctor Who and The Brain of Morbius
.
A few plans for the rest of the week:
A party! Juanita's mom is going to be 80 years old. She is a tough, determined woman—last year she had a stroke so bad she could only communicate with her eyes and some grunts. Six months later she was talking again, albeit slowly, and walking with a walker. She really embodies the spirit of not giving up!
Here is a thought I am sharing...
"Happiness hangs by a hair." ... Mary O'Hara in
Wyoming Summer
Things happen in a split second. Live every moment you have. Kiss your spouse, your parents, your kids. Hug your friends, breathe the air, go somewhere and do something. Tell someone you love them (even if it's a pet). Life's too short. 
If you'd like to take part, check out
The Simple Woman's Daybook
for instructions. 
Labels: Simple Woman's Daybook