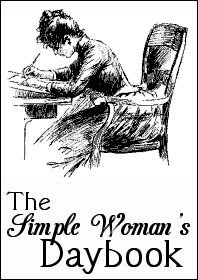 FOR TODAY, MARCH 9, 2011
Outside my window...
...it is grey, gloomy, and raining, perfect for our rain deficit, but not fun for commuters. A few minutes ago I went to get some water and saw three male goldfinches amongst the other birds, in various stages of spring molt. One of them was pretty much finished, with only a few spots of olive in the bright gold.
I am thinking...
...about the advertisement I need to write next. The order is over $25,000 and not on GSA schedule, so it is required. The hardest thing about it is typing all those long serial numbers.
I am thankful for...
...not having to go out today. Really, I'm as bad as a cat. But then I've never liked the rain, except on a warm day in the summer; snow was more my speed. You couldn't keep me out of the snow when I was a kid—I'd go out in the yard and kick paths in the snow, then get my stick horse and pretend I was riding from place to place, like Trixie Belden on the bridle paths between Crabapple Farm and the Manor House.
From the learning rooms...
...I'm reading John McPhee's
Coming into the Country
about life in Alaska, which was written in the 70s. Just wondering, with the proliferation of anti-fur groups, are there still trappers out by the Yukon? How do they make their living now, if not?
From the kitchen...
...it's dark. James gave it a good scrub last night, so it looks tidy, and the stair-step "spice rack" that I put in that useless corner is doing good duty holding cans of Pam and a bottle of Worcestershire sauce, a cow napkin holder that holds a scraper and a cow measuring spoon holder and the bread knife.
I am wearing...
...my WordPerfect sweatshirt, gas-flame blue sweatpants, white socks, and my blue scuffs (goodness, blue and white with black trim, I'm the same color as Schuyler).
I am creating...
...nothing right now. Still intending to work on a Christmas gift. Still need to find a TARDIS charm. I don't mean a phone charm! I got one of those for Christmas, but they don't work with my Droid. I mean a charm as goes on a charm bracelet. When I look up "TARDIS charm" on Google, all I get is phone charms. [eyes roll] You mean no one's ever made a TARDIS charm for a charm bracelet? Weird.
I am going...
...to go back to work as soon as I finish with this break. Have the advertisement, some research, a stern e-mail, and something to forward.
I am reading...
...well, McPhee...
The Mental Floss History of the United States
and the new "Yankee" magazine. Just finished Caro Peacock's
A Family Affair
.
I am hoping...
...to take a trip to Ellijay soon. I could do with a proper apple pie. The no sugar added pie we bought at...Costco?...was disappointing, very dry crust and the apples mushy.
I am hearing...
...indistinct sounds from outdoors, the hum of the computer, Schuyler's occasional chirp, and the October 10, 2010, episode of "This Week in Tech."
Around the house...
...it's pretty dark, because of the rain outside. Usually the sun is still streaming in the windows. I need to take the winter decorations down. Sigh. I need to take the winter village down so I can put up my St. Joseph's altar.
One of my favorite things...
...is almost over: winter, when it's cold and I can breathe better. When I got into work yesterday I was so disappointed, because it was much too nice to go inside, partly cloudy, breezy, in the forties; the air just smelled so
good
!
A few plans for the rest of the week:
Work. It's my full week, not my compressed week. Return a DVD to Costco (we already had it). Maybe buy the rest of
Pie in the Sky
...that is such a lovely series!
Here is picture for thought I am sharing...
My dad would always be in the living room, which faced northwest, while Mom was cooking dinner or cleaning the kitchen or washing dishes. Some nights he would call to her: "Come see this sunset!" At first she saw this as an interruption, but soon she began to enjoy this time together. After Dad died, one of the things she remembered most were those sunsets.
Watch sunsets with someone you love.
(This is a photo by Timothy Hamilton of sunset at Zion National Park in Utah.) 
If you'd like to take part, check out
The Simple Woman's Daybook
.  
Labels: Simple Woman's Daybook