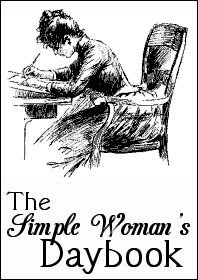 FOR TODAY, MARCH 30, 2011Outside my window...
...it is a grey, drizzly day. A few weeks ago we had a rain deficit of three inches, now it is all made up and we are having more rain. I hope the normal rainfall keeps up for the year so that it will be somewhat cooler. Last year it was steadily over 90°F from June through September. Talk about a taste of Hell! Despite the drizzle, the birds are still darting in and out to the feeder; I've seen the female red-bellied woodpecker, a titmouse, and a male house finch so far.
I am thinking...
...that it's so nice to have instrumental Christmas music to listen to on a grey, drizzly day. It cheers me better than anything. We have had 40s-50s temps in the last couple of days, which was a nice respite from the warm weather we'd had the week before. A cafè au lait candle completes the mood; perfect atmosphere to work in.
I am thankful for...
...being able to sit at my computer this morning. When I woke up, my right eye was sore and watering. I took some ibuprofin and it is some better. It started yesterday, after I emerged from work to find my car finely sifted with yellow pine pollen. Probably a grain or two has gotten into my eye to irritate it. The news reports are full of stories about how early pollen season is this year, and how bad it is. Allergists are swamped with calls.
From the learning rooms...
...I am trying to take some pointers from Gretchen Rubin's
The Happiness Project
. Rubin seemingly "has it all": wonderful husband and kids, good job, nice home in New York...but she finds herself discontent anyway. The book is a chronicle of her year-long "happiness project." I too have found myself restless and discontent for no reason.
From the kitchen...
...James made gingerbread the other night, since it had gone back to "gingerbread weather." I can sniff it if spring gets just too much, but it's for dessert, not for snacking.
I am wearing...
...Mutts jammies and white socks, which is what I wear around the house this time of year. It's the in-between outfit set in the middle of sweats or tank top/shorts.
I am creating...
...still working on the picture frame. Should start the easy "Dreamscapes" cross-stitch I bought a few weeks ago, but have been too busy reading.
I am going...
...to make a list of things I really need to do this weekend. My watch has needed a battery for months; I keep forgetting to take it somewhere to get the battery replaced. The living room looks like a bookstore exploded in it, as does our bedroom. At least I have gotten all the jackets, scarves, and hats washed, and half of them put away.
I am reading...
...still working on
Coming into the Country
(it's a plump book), also
Once and Future Giants
, the aforementioned
Happiness Project
, and am on the last half of
Mistress in the Art of Death
.
I am hoping...
...to get some tidying done this weekend, and hope to persuade James to help. He is still having trouble sleeping, though the new machine and the Breathe-Rights are helping. He pretty much has some of the same problems I do, getting hot and then cold. Not to mention that last night it thundered, which made the dog bark, and both our phones sprang on at 5:18 a.m.
Why
they do so randomly in the night is a mystery.
I am hearing...
...hammered dulcimer music. I have one of my Marcielle Wallis Christmas albums on. A few minutes ago a wren was warbling on the chimney. You can always tell when a bird is perched on the chimney; their voices are so amplified!
Around the house...
...a bit of chaos. Things not put away. I'll get to some of them at lunchtime, but it makes me restless.
One of my favorite things...
...instrumental Christmas music, for any time of the year. It's especially welcome on hot summer days; makes me hopeful that more acceptable weather is coming as the year rolls around.
A few plans for the rest of the week:
Watch battery. Return of library book. A stop at Bed, Bath and Beyond before the coupons run out. And Ken's birthday dinner!
Here is a thought I am sharing...
Actually, it's a video that one of my Facebook friends linked. I'd seen this before, but it's always a good reminder of what a joy friends are—whatever shape a friend comes in:
CBS Assignment America: Dog and Elephant Friendship
If you'd like to participate, check out
The Simple Woman's Daybook
.  
Labels: Simple Woman's Daybook