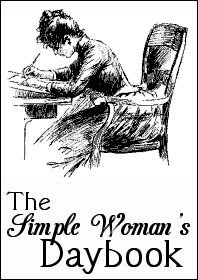 FOR TODAY, MARCH 23, 2011Outside my window...
...it is sunny with a few clouds. The birds are calling at the top of their lungs. I just finished walking Willow this morning since James had an early doctor's appointment, and they were in high song. I had heard a bird calling loudly on our chimney, and there he was when I took Willow outside, and more birds, at least three others, on the peaks of three other roofs. One was a Carolina wren who was pouring his heart out! Somewhere close a woodpecker was drumming briskly. There was a lovely breeze!
I am thinking...
...that I wouldn't mind spring so much if it didn't get so warm. I don't mind it into the sixties, especially if there are many clouds and a nice breeze! This morning was quite nice.
I am thankful for...
...James' appointment this morning going well. He has a problem occasionally when he eats, which he believes may be caused by a hernia. But when he asked the advice nurse about it last week, they completely misinterpreted what he was trying to explain and had him hurry in to the office, and then said he had to go to a cardiologist. He went there this morning, and the doctor said the problem does not sound heart-related, although they have taken some tests to make certain.
From the learning rooms...
...I'm reading an absorbing history book called
The Vertigo Years: Europe 1900-1914
. Had you thought this era was simply a Gilded Age of rich Edwardians and poor commoners, with little social change except for a few suffragettes, and that the "fires" of Europe didn't ignite until assassins struck in Sarajevo, you would be very wrong.
From the kitchen...
...it's untidy. I'm avoiding it. :-)
I am wearing...
...a blue tank top and blue shorts. It's been quite warm, over 80°F yesterday. In fact it was as warm in my cubicle as it was outside.
I am creating...
...a birthday gift, but I can't post about it because the person who it's intended for may read this.
I am going...
...to give Willow a bath. I swear. I just have to gird my loins up for it. :-)
I am reading...
...the book I mentioned above, still working on
Coming Into the Country
and
Once and Future Giants
about extinct large animals. I just finished
Mother Was a Gunner's Mate
, the story of a WAVE during World War II.
I am hoping...
...to repair the gazebo that goes with my winter village. It was broken when I took it out of the box this year, and have not "attacked" it all winter. It will take several sessions to get it fixed, as it's fiddly bits.
I am hearing...
...a cardinal going "chip-chip-chip" outside. The birds are hungry; I need to go refill the feeders.
Around the house...
...I really
must
get all those things off the dining room table! How horizontal surfaces do collect junk! I remember the dining table in our old apartment; we could never use it, as there were always newspapers to be recycled and other junk upon it.
One of my favorite things...
...is eating her breakfast as I type: Schuyler, my budgie. She's quite put out that I cannot take time out while I'm working to come talk to her. If she would sit on my finger she could come out of her cage, but she views any fingers as suspicious and refuses. Oddly, she's not afraid of them, she just wants them out of her cage.
A few plans for the rest of the week:
We're supposed to go to a British fan gathering on Saturday. Looking forward to it!
Here is a thought I am sharing...
...I wrote the rest of the entries early this morning, and really did not know what to put here until I nipped off at lunch time and took a last stroll around the Austell Borders store.
One of the clerks at Austell has always been very chatty and interested in all the customers. He'd always have a comment about what you bought, whether it was interest in the book you bought or telling you he had read that one and enjoyed it. So I was wondering what he would be doing when the store closed. Well, as I was standing in line I heard him talking about it to the person in front of me. In short, he was using it as a positive experience: he was going to look for a different retail job, while working on his writing. When I got to the counter he was a bit dismayed at the negative spin the woman was putting on his fate.
So I suppose the thought I am sharing is that in life it is probably to have an attitude more like this particular clerk (and not like Eeyore!).
(Oh, what did I buy? A Yahtzee "Hands Down" card game, Tasha Alexander's newest book, the "Dear America" book about the Japanese internment, and
Scout, Atticus and Boo
, an anniversary tribute to
To Kill a Mockingbird
. 
If you'd like to take part, check out
The Simple Woman's Daybook
.  
Labels: Simple Woman's Daybook