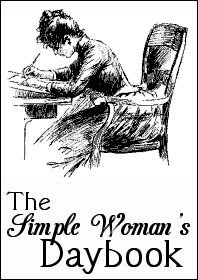 FOR TODAY, MARCH 16, 2011Outside my window...
...it is overcast, and still a bit chilly outside (for now, so I will enjoy it, even though my toes are cold). It's supposed to get into the high 70s on Friday. I do not like temps over the 60s, so I'm not looking forward to it. There is a white-breasted nuthatch eating upside down on one of the feeders.
I am thinking...
...how much better I feel than yesterday. Evidently the tuna I had at lunch disagreed with me, but since it's the only type of fish I like, I need to eat it. I also need to find a quiet time to read my Mass readings for the day. I found an app for my phone that has daily readings and a reflection. You can also use it to pray the rosary, do the Stations of the Cross, and read the Bible. I thought I would at least do this for Lent.
I am thankful for...
...being at home working, where it's quiet. Actually, right now it's too quiet, as I have been listening to BBC radio shows all morning, the next two parts of
Paul Temple and the Jonathan Mystery
, a very funny piece about being a
Doctor Who
fan, and also an adaptation of
Anne of Green Gables
(their Anne is a bit too shrill, though).
From the learning rooms...
...I am reading
The King's Speech
and enjoying it very much. I had read that George VI had a stammer, but have heard speeches by him with no trace of it, so it is quite interesting to learn the work he went through to be rid of it. The book also contains some nice historical bits about the British royal family, Australia, and the events leading up to the second World War. I already have the film in my Netflix queue for when it is available.
From the kitchen...
...not much, since it's pot lucks on Wednesday. I think there's enough rice left for me to have soup; else I will have to cook more.
I am wearing...
...a green t-shirt, a pair of green "Mutts" pajama bottoms, white socks, and blue scuffs. By the end of the week I will be in a tank top and shorts. "Ain't that a revoltin' development!" as Chester Riley used to say.
I am creating...
...work right now. Have to advertise an order now that I have a statement of work. I can start my gift project now that I have paint, but I haven't begun it yet.
I am going...
...to start washing clothes as soon as lunchtime is here. I still don't understand why we are up to two loads a week; there's only the two of us. It must be the extra James has been wearing because he is cold.
I am reading...
...still reading
Inside the Apple, Coming into the Country, the Mental Floss History of the United States
, and also the second Daisy Dalrymple book,
The Winter Garden Mystery
as well as
Murder My Darlings
(sleuths Dorothy Parker and Robert Benchley are trying to clear a youthful William Faulkner of a murder charge).
I am hoping...
...James' new C-PAP machine will help his sleeping! He is picking it up this afternoon.
I am hearing...
...nothing but the hum of the computer and Schuyler kissing me at the moment.
Around the house...
...it needs a vacuuming, as always, and the laundry baskets are arranged in a tidy row waiting to go downstairs. I am a quarter of the way getting the winter decorations down and have no heart for it.
One of my favorite things...
...is listening to those BBC adaptations! I think it's a crying shame American radio doesn't do radio stories anymore.
If you'd like to listen, go here:
http://www.bbc.co.uk/radio7/programmes/a-z/player
These are all the shows available on their iPlayer right now.
A few plans for the rest of the week:
I need to check in the craft room to see if there is anything else I need while I have JoAnn coupons and Michaels coupons. I need to go by Kaiser on Friday and pick up a prescription.
Here is a thought I am sharing...
Nothing else but to keep the Japanese people in your prayers or good wishes. 
If you'd like to take part, check out
The Simple Woman's Daybook
.  
Labels: Simple Woman's Daybook